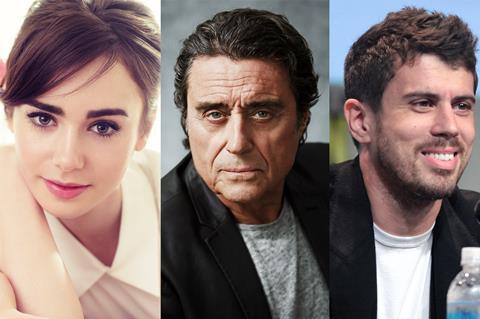 Lily Collins (Rules Don't Apply), Ian McShane (Pirates Of The Caribbean: On Stranger Tides) and Toby Kebbell (Dawn Of The Planet Of The Apes) have joined the voice cast of animation Here Comes The Grump.
Produced by Mexican outfit Anima Estudios with UK outfits Prime Focus World and GFM Animation (a sister company of GFM Films), the film is based on a script from Ice Age: The Meltdown screenwriter Jim Hecht, with designs by Craig Kellman (character designer on both Madagascar and Hotel Transylvania).
James Brett (Walking With Dinosaurs) has composed the film's music. Voice recording is currently underway in Los Angeles with Todd Resnick at The Voice Company.
McShane will voice the titular Grump, a once carefree, happy-go-lucky magician who has his outlook on life changed by a broken heart. Kebbell will voice a teenager with a vivid imagination who finds himself magically transported via his Grandma's retro theme park to the land of Groovynham where he meets the ever-so-perfect Princess Dawn, voiced by Collins.
Development, creative direction and supervision on the film was undertaken at Anima's studio in Mexico City with animation at Prime Focus's London and Mumbai animation facilities.
The film will receive its premiere market screening at the AFM in November with delivery in December.
"We are thrilled to welcome Ian, Lily and Toby to the Grump team," commented Greg Gavanski, Prime Focus World's animation division head. "This hugely talented voice cast, alongside the beautiful animation delivered by the artists of Anima and Prime Focus, has brought these fantastic characters to life in ways we couldn't have imagined. I couldn't have hoped for things to come together any better than this."
"Having such amazing actors be part of our movie makes us feel even more excited about it. We are sure that the audiences will love McShane´s grouchy character, Lily's adorable princess and Toby's cool hero," added José C. García de Letona, COO at Ánima Estudios.