Garth Davis's Oscar hopeful had its European premiere at the festival's 12th edition.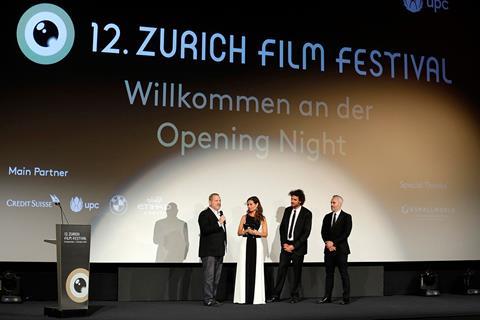 The 12th Zurich Film Festival (Sept 22 - Oct 2) got off to an emotional start on Thursday with the European premiere of Australian director Garth Davis's heartwarming drama Lion.
The tale of a young Australian man who attempts to retrace the Indian birth mother he lost as a child left hardly a dry eye in the packed theatre (with the festival thoughtfully including a packet of tissues in the opening-night goodie bag).
"The audience responded really well," said ZFF co-founder and artistic director Karl Spoerri. "It's a very emotional film. It's interesting this year we have so many films related to the family."
Harvey Weinstein, Lion's executive producer and US distributor, and producer Iain Canning joined Davis on stage ahead of the screening. A gentle buzz is growing around Lion as a potential awards season contender, not least because of Weinstein's involvement. Nearly 300 films he has been connected to over the years during his time at Miramax and The Weinstein Company have won Oscars.
But Weinstein was non-committal when asked whether the Zurich screening marked an early step for an Oscar campaign. "Just enjoy the film and lower your expectations. Hopefully, you'll be surprised," he told the audience, adding with a joke: "The other reason I'm here is that if Donald Trump wins president, I want to know whether you'll accept 350 million refugees."
Securing the European premiere of Lion was a coup for Zurich, says Spoerri. "It's amazing. It's always a struggle to get the bigger films here, especially for a European premiere. Harvey knows and likes the festival. We pushed hard and promised him our best slot."