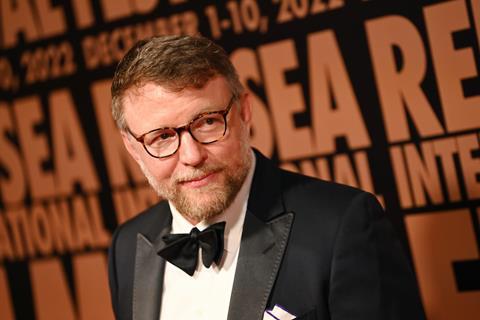 Lionsgate has picked up US distribution rights to The Ministry of Ungentlemanly Warfare, Guy Ritchie's World War II action film that has just started shooting in Turkey.
Amazon's Prime Video has also bought into the project, securing rights for Europe, Latin America, Australia/New Zealand, Canada, South Africa, India and pan-Asian pay TV.
Lionsgate is planning a 2024 wide theatrical release for the film, which is being sold worldwide at this week's European Film Market by Black Bear International.
Henry Cavill, Eiza González and Alan Ritchson lead the ensemble cast of Ministry and Jerry Bruckheimer is producing alongside Chad Oman, Ritchie's producing partner Ivan Atkinson and John Friedberg for Black Bear.
Lionsgate Motion Picture Group vice chair Adam Fogelson commented: "I have been fortunate enough to partner with Guy on a number of films over the years and he always delivers something that audiences crave – original, action-packed and entertaining theatrical experiences. I am delighted to be teaming up again to bring Ministry and its amazing cast to audiences."
In a statement addressing the film's choice of location, Ritchie and the project's producers said: "As we begin production in Turkey, though we will be several hundred miles from the epicenter of the recent earthquakes, we do so with profound sympathy for everyone affected. Our thoughts are with the members of our crew with family in the region. We wish to express our sincere condolences to the people of Turkey. We stand by them and are committed to supporting members of our production team and the wider community over the coming weeks and months."