Almost half of UK exhibitors are now screening live cinema experiences.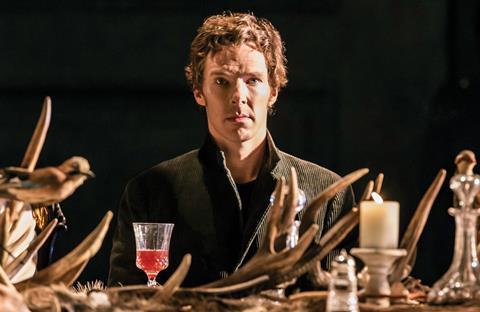 Some 48% of UK exhibitors are now hosting live cinema events, and film distributors are becoming increasingly open to licensing more films for such events in the future, according to the first ever report on 'Live Cinema' exhibition in the UK.
Conducted by organisation Live Cinema UK, and funded by Arts Council England Grants for the Arts, the report examines the emerging climate of cinema experiences featuring live elements, including screenings accompanied by immersive theatre, live soundtrack and other experiential activity.
Popular productions over the past 12 months have included the Benedict Cumberbatch-starring Hamlet [pictured], which posted the highest opening for an event cinema release last year with $2.92m, and Secret Cinema's Empire Strikes Back experience, which recorded more than 100,000 admissions.
The report, titled Live Cinema in the UK, has been published alongside the first International Live Cinema Symposium, which is taking place in London today (May 27) with speakers from NT Live and Picturehouse among others.
The report calls for more specific box office data to be collated for live cinema from next year, and box office experts Rentrak will be speaking at today's event.
Lisa Brook, director of Live Cinema UK, said: "The contributions for the report and the number of key organisations attending the conference is testament to how crucial live cinema is to the current film exhibition landscape.
"Live cinema events generate new cultural audiences,encouraging them to step away from VOD and back into the cinema; new funding opportunities; employment for creatives and technical teams; and present a wealth of opportunities for distributors and rights holders to promote their titles in new and innovative ways."
Mixed opinions
Last week, specialist arts news service Arts Professional reported mixed opinions on whether live cinema events were cannibalising audiences for theatre and opera.
English Touring Opera's artistic director James Conway said: "If there's a direct clash, we lose audiences. And so do they - because it's the same audience. Only the audience for film opera is smaller."