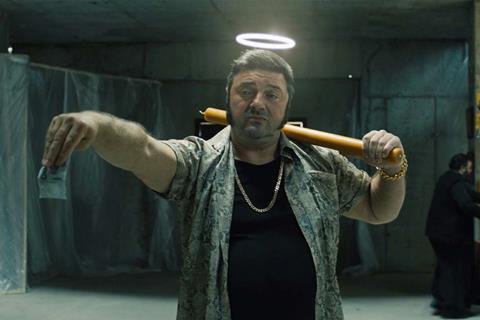 Abel Ferrara's contemporary thriller Zeros And Ones and Srdjan Dragojević's dark comedy Heavens Above are among 17 films from 12 countries having their world premiere in the international competition at the 74th Locarno Film Festival (August 4-14) under the new artistic director Giona A. Nazzaro.
Scroll down for full line-up
In his first collaboration with Ferrara, Zeros And Ones sees Ethan Hawke plays an American soldier stationed in Rome who pursues an unknown enemy threatening the entire world after the Vatican gets blown up.
Ahead of shooting in Italy last autumn Ferrara described it as "a film of lockdown and war, danger and espionage, American soldiers, Chinese middlemen, Middle Eastern holy men, provocateurs, diplomats, rogue elements of the CIA and KGB." Capstone's Blue Box International introduced the project to buyers at last year's AFM.
Serbian director Dragojević's Heavens Above features three intertwining stories about the impact of miracles in post-communist society. Dragojević's previous films include the controversial Bosnian war drama Pretty Village, Pretty Flame.
The competition line-up also includes Icelandic action-drama Cop Secret by director Hannes Tor Halldórsson (who also plays in goal for his national football team and memorably saved Lionel Messi's penalty at the World Cup in 2018), and Indonesian filmmaker Edwin's black action-comedy Vengeance Is Mine, All Others Pay Cash.
The international competition jury comprises US filmmakers Eliza Hittmann and Kevin Jerome Everson, Italian actress Isabella Ferrari, director Philippe Lacote from Ivory Coast, and Portuguese actress Leonor Silveira.
The festival's second main competition strand – Filmmakers of the Present – has world premieres with 15 first or second features by filmmakers from Philippines, Chile, Mexico, Tunisia as well as Western Europe.
In addition, this year's Piazza Grande open-air programme of 14 titles includes world premieres of Stefan Jäger's Monte Veritá – which was shot at locations close to Locarno last summer, Oscar winner Stefan Ruzowitzky's Hinterland, and US director John Swab's crime drama film Ida Red, starring Melissa Leo, Frank Grillo and Josh Hartnett.
As previously announced, Ferdinando Cito Filomarino's Beckett will open the festival, set to take place as an in-person event.
Concorso internazionale 2021
After Blue (Fr)
Dir Bertrand Mandico
Al Naher (Leb/Fr/Ger/Qat)
Dir Ghassan Salhab
Espiritu Sagrado (Sp/Fr/Tur)
Dir Chema Garcia ibarra
Gerda (Rus)
Dir Natalya Kudryashova
I Giganti (It)
Dir Bonifacio Angius
A New Old Play (HK/Fr)
Dir QIU Jiongjiong
Juju Stories (Nig/Fr)
Dirs C.J. "Fiery" Obasi, Abba T. Makama, Michael Omonua
La Place d'une Autre (Fr)
Dir Aurelia Georges
Cop Secret (Ice)
Dir Hannes Tor Halldórsson
Luzifer (Austria)
Dir Peter Brunner
Medea (Rus)
Dir Alexander Zeldovich
Heavens Above (Serb/Ger/North Mac/Slo/Cro/Mont/Bos)
Dir Srdjan Dragojević
Petite Solange (Fr)
Dir Axelle Ropert
Vengeance Is Mine, All Others Pay Cash (Indonesia/Sing/Ger)
Dir Edwin
The Odd-Job Men (Sp)
Dir Neus Ballus
Soul Of A Beast (Switz)
Dir Lorenz Merz
Zeros And Ones (It/Ger/USA)
Dir Abel Ferrara
Concorso Cineasti del presente 2021
Actual People (USA)
Dir Kit Zauhar
Holy Emy (Gr/Fr/USA)
Dir Araceli Lemos
Public Toilet Africa (Ghana)
Dir Kofi Ofosu-Yeboah
Brotherhood (Czech/It)
Dir Francesco Montagner
Virgin Blue (China)
Dir NIU Xiaoyu
Il Legionario (It/Fr)
Dir Hleb Papou
Whether The Weather Is Fine
Dir Carlo Francisco Manatad
L'Ete L'Eternite (Fr)
Dir Emilie Aussel
Mis Hermanos Suenan Despiertos (Chile)
Dir Claudia Huaiquimilla
Mostro (Mex)
Dir Jose Pablo Escamilla
Niemand ist bei den Kälbern (Ger)
Dir Sabrina Sarabi
Shankar's Fairies (Ind)
Dir Irfana Majumdar
Streams (Tun/Lux/Fr)
Dir Mehdi Hmili
Wet Sand (Switz/Geo)
Dir Elene Naveriani
Zahori (Switz/Arg/Chile/Fr)
Dir Mari Alessandrini
Piazza Grande 2021
Beckett (It)
Dir Ferdinando Cito Filomarino
Free Guy (USA)
Dir Shawn Levy
Heat (USA)
Dir Michael Mann
Hinterland (Austria/Lux)
Dir Stefan Ruzowitzky
Ida Red (USA)
Dir John Swab
Monte Verita (Switz/Austria/Ger)
Dir Stefan Jager
National Lampoon's Animal House (USA)
Dir John Landis
Respect (Canada/USA)
Dir Liesl Tommy
Rose (Fr)
Dir Aurelie Saada
Sing-Keu-Hol (Sinkhole) (South Korea)
Dir KIM Ji-hoon
The Alleys (Jor/Egy/Saudi Arabia/Qat)
Dir Bassel Ghandour
The Terminator (USA/UK)
Dir James Cameron
Vortex (Fr/Bel/Mon)
Dir Gaspar Noe
The Walking Liberty (It)
Dir Alessandro Rak