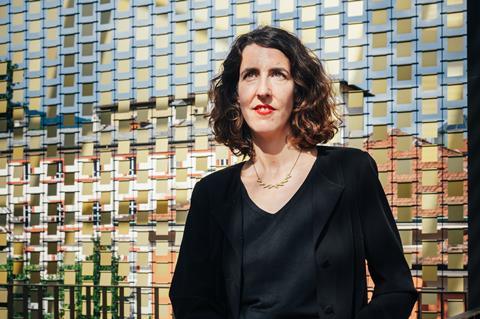 The Locarno Film Festival announced the cancellation of its 73th edition, which was due to take place on August 5 to 15, on Wednesday, due to the Covid-19 pandemic.
One of the deciding factors was a decision by Switzerland's Federal Council to extend a ban on gatherings of more than 1,000 people until the end of August. This ruled out large capacity screenings in Locarno's flagship open-air venue of the 8,000-seat Piazza Grande as well as in the temporary 2,800-seat theatre which it constructs in the Fevi exhibition centre every year.
Rather than attempt an online edition or a stripped down, physical event, the festival has opted to develop an entirely new programme called Locarno 2020 - For the Future of Films.
Details of this programme are presently being worked out. A key element is the creation of two Special Leopard awards – each worth $72,000 (CHF 70,000) giving financial support to two feature film productions – one international and one Swiss – impacted by the global Covid-19 lockdown.
Locarno's artistic director Lili Hinstin talked to Screen about the festival's plans to support the independent film industry during this complex time.
Could you give a few more details on the festival's Locarno 2020 – For The Future Of Films format?
No, not yet. We decided to communicate sooner rather than later, even if we hadn't had time to define the details of our alternative propositions, out of solidarity for all the people who were waiting to see what we were going to do. We didn't want to keep people hanging on.
We ourselves have spent weeks working against a backdrop of uncertainty and we know how this difficult it can be. We studied lots of different scenarios without really knowing what was going to happen. It's a very uncomfortable situation from a psychological point of view. It was difficult for the team and everyone.
From the moment we understood that the federal directives wouldn't allow us to hold screenings with big audiences, as per Locarno's tradition, we knew we had to take a decision. It wasn't easy, there were pros and cons on both sides, nothing was black or white but at a certain point you have to bite the bullet.
We came to the conclusion that it didn't make sense to propose a selection of new films for online in August and from that moment we decided that the quicker people knew the better, so they could advance with other plans for their films.
Did you have some of 2020 selection in place already?
We had only just started. We had a very small part and had only selected a handful of films. But this is in keeping with our usual calendar outside the health crisis. This is normally the time we start inviting films.
Will these films be invited back for the 2021 edition?
Yes, we've said all the films we selected this year are invited back next year. We didn't just say, 'sorry we've cancelled, ciao, ciao'. I think all festival programmers and directors are in agreement with this line of action. It's the least we can do, we need to adapt to the situation. Of course, the films are under no obligation to take us up on this offer if they are invited to other festivals before next year.
In a normal year, would you have tied up a lot of your selection at the Cannes Film Festival in May?
Not at Cannes, but rather after Cannes announces its Official Selection. That frees a lot of films that were holding out for a Cannes slot. It's a bit the case for all the festivals - whether its Venice, Toronto or Berlin… there is always this element of Cannes.
Thierry Frèmaux said the festival is mulling the creation of a Cannes 2020 label for the films that were destined to premiere at the festival this year. Did you consider a similar label for Locarno?
We did think about it but we weren't advanced enough in our selection for it to really make sense. I don't think it's really very pertinent to do the huge work required to build a selection - just for a label. When a film is invited to Locarno, it's about more than just the selection, it's a whole package in that we do everything we can to support the film and filmmakers. A Piazza Grande label might help the Swiss distributors but it's still complicated when there's uncertainty around when films will finally be released.
Given the Federal Council directive allows for gatherings of less than 1,000 people couldn't the festival have run with smaller screenings and industry events that respected social distancing and hygiene protocols?
We looked at that in great depth and came up with lots of possibilities - we even considered setting up a drive-in venue – but it all came back to the fact that we simply don't know what might happen in August. There was also the health issue. There were so many potential points of contact from the people collecting the tickets to all the activity around the town during the festival. It didn't make sense to make promises to films if suddenly at the last minute it's too dangerous, or people got scared, and we might have to cancel or go online. We didn't want to put the films in difficulty.
In the press release announcing the cancellation of the 73rd edition, there is a suggestion that some small events might still take place in Locarno nonetheless if the health situation allows, can you explain?
I think that was an affirmation of hope. If at a certain point it looks like things are starting to return to normal in Locarno, we might celebrate this return to normal life and cinema with a screening in one of the festival's own cinemas, like the Rex. It a decision that will be taken at the very last minute, however, because we see how rapidly things change from one week to the next. But we won't be suddenly pulling together a feature film selection or setting up Locarno's historic locations of the La Piazza Grande or the Fevi.
One element of the Locarno 2020 – For The Future Of Films programme that has been announced is the creation of two Special Leopard awards aimed at giving financial support to film productions impacted by the Covid-19 lockdown. What was the thinking behind the creation of these prizes?
All our thinking around what to do this year revolves around two key axes: responsibility and solidarity. Responsibility towards the public from the point of view of safeguarding their health but also towards the industry. So rather than focus on making a selection for the sake of the ego of the festival we tried to look at would be helpful for the films and their creators.
We reflected on what we could do on practical level. Within the limits of our now modified budget, we have managed to set up two Special Leopard Awards for feature film projects that have been halted due to the health crisis, one international and one Swiss. We managed to carve out the sum of 70,000 CHF ($72,000) for each project, which is a little bit less than prize money for theGolden Leopard.
The selection committee will draw up a list of projects that it knows have been halted and participation will be on invitation. There will be two juries, probably made up of other filmmakers. The idea is to set up a very protected and understanding environment. We don't add any pressure at a time when projects and filmmakers are fragile. There will be no demands in terms of showing footage and it will be closed event, not open to the public or industry. I don't have a timeline yet on when the selection or juries will be announced, nor when the deliberations and award announcements will take place, but we're working on it now.
The Locarno Pro industry programme and the Locarno Academy, aimed as nurturing emerging professionals across the cinema chain, are integral parts of the festival offering, as are its initiatives to connect with young audiences. Do you have plans for these elements of the festival?
The Locarno Academy team looked in depth at doing an online programme but decided in the end to cancel this year's edition. The decision was announced on April 28. In terms of young audiences, we're looking at what we can do online, especially as younger audiences are receptive to the online experience.
On the industry front, my colleagues there are trying to figure out what activities would be most pertinent in the current situation. We're all of us working closely to evaluate what makes most sense and will communicate on our plans once details are more fully in place.