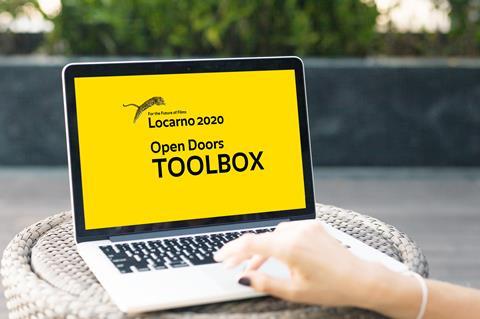 The Locarno Film Festival's Open Doors programme, focused on discovering and supporting cinema from the global south and east, has unveiled a new offering of year-round services aimed at deepening and widening the scope of its work.
Up until now, Open Doors has confined most of its activities to onsite events taking place during the festival as well as to a relatively small number of filmmakers and producers each year.
The existing core programme – which is in the second year of a three-year cycle devoted to the cinema of Southeast Asia and Mongolia – unveiled the participants of its 2020 edition last week.
It will take place online this year due to the Covid-19 pandemic and the cancellation of the physical 73rd edition of its parent festival, which is instead running a special programme bannered "Locarno 2020 – For The Future Of Films" from August 5-15. Open Doors will run in the first week.
Open Doors chief and deputy head of Locarno Pro Sophie Bourdon said work on developing the additional year-round services had begun long before the Covid-19 pandemic, but noted that the global health crisis had made the initiative even more relevant.
This new initiative is being overseen by Zsuzsi Bankuti, former head of acquisitions at The Match Factory, who recently joined the Open Doors team in the role of Open Doors community coordinator.
It will take a four-pronged approach.
This will include an online platform bannered the Open Doors ToolBox, which went live today (June 16) and can be accessed by all filmmakers and producers in the focus countries.
The platform has been conceived in the first instance as a resource centre for professionals seeking advice and information on training and funding opportunities worldwide. The Open Door team also plans to widen its reach as a community hub with the creation of a forum area, which is due to be created in a second phase of the project by end 2020.
A second prong of the year-round services will be an online hotline, through which professionals can write to the Open Doors team with specific questions or requests for feedback on current projects and career advice. It will be open to all film professionals in the region, not just officially selected Open Doors participants.
There will also be a more bespoke consultancy service offering online one-on-one guidance by film professionals on specific projects, covering aspects such as scriptwriting, co-production and financing strategy, editing, International distribution, legal issues and contracts.
There will be three open calls a year for this service, with up to eight projects being accepted for each round. The first call for submissions will run June 22-24.
Open Doors team is also planning an annual regional forum to be held in one of the spotlighted countries and open to all film professionals hailing from any of the regions that Open Doors has been focused on since 2016. Its aim is to foster exchange in the region through panels, screenings and meetings with international and regional key film industry professionals.
"It is a very exciting time for Asia and we are working towards building a sustainable community which can pass on this acquaintance after the Open Doors period," said Bánkuti.