Hugh Jackman starring X-Men spin-off attracts the lion's share of social media chatter in second week of release.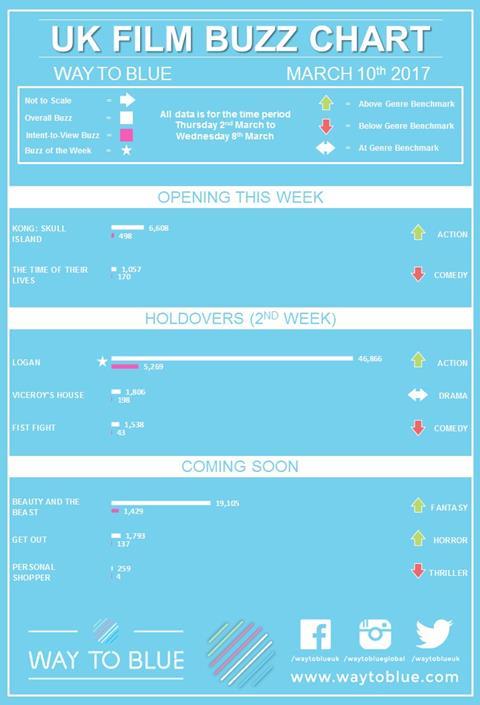 Logan, the latest release in the X-Men franchise starring Hugh Jackman, dominated UK social media buzz again this week, clocking more online comments than all of the other films on this week's chart combined.
The film, now in its second week of release, topped the UK social media buzz chart for the third time in a row, garnering more than doubled the amount of comments received by runner-up Beauty And The Beast, according to numbers provided by analysis firm Way to Blue.
Logan generated a hefty 52,135 comments from across the internet, including news and social media, between March 2-8.
5,269 of those comments displayed an intent to view, more than triple the intent to view comments received by Beauty And The Beast.
The Emma Watson-led live-action remake of the Disney film received a total of 20,534 comments ahead of its UK release on March 17.
Action films in general over-performed the genre benchmarks for social media buzz while comedy films underperformed this week.
Further titles generating buzz online include Kong: Skull Island, which ranked third on the chart, as well as period drama Viceroy's House and horror-comedy Get Out.
For an explanation of the Way to Blue chart and its methodology, which tracks 'overall buzz' and important 'intent to view' buzz, click here.