An EFM panel composed of three indie sales agents in Berlin yesterday (Feb 17) suggested that filmmakers shouldn't always be swayed by the big spending power of Netflix and Amazon.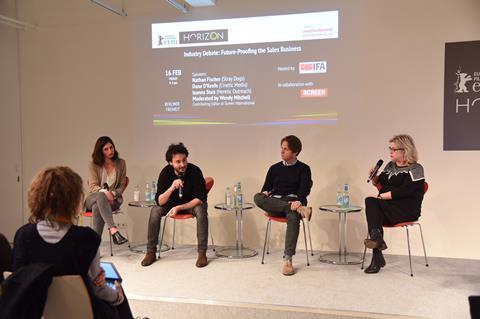 Dana O'Keefe from New York-based Cinetic Media, which has handled sales on the likes of A Girl Walks Home Alone At Night and The Babadook, said that "Amazon and Netflix have been dictating the state of play and dominating the marketplace" but noted that the companies' lack of activity at the recent Sundance Film Festival had created more opportunities for alternative channels.
He suggested that the lack of deals conducted by those online giants signalled a change in their approaches – Amazon is changing internally in regards to the type of content it seeks out, and Netflix continues to shift its focus to original productions and in-house talent. "They're not the only game in town," he noted.
Nathan Fischer of Paris-based Stray Dogs, which has The Brawler and Pin Cushion on its slate, said that while two years ago the influx of money from Netflix and Amazon had been great for independent film, particularly for titles that "didn't fit the traditionally costly model of a theatrical release", there were now less deals coming to fruition. "I'm not sure what they have in mind as a goal," he said, adding that he was "sceptical about whether they will be good for independent films" in the long run.
He suggested that there is an opportunity for more niche VoD players to establish themselves as genuine alternatives to Netflix and Amazon, using the example of Shudder, which he classed as a great option for genre titles, and MUBI for arthouse film.
Ioanna Stais from Athens-based Heretic Outreach, which has Sundance title Holiday and IFFR premiere The Reports On Sarah And Saleem on its slate, agreed that more niche VoD platforms could be a solution, but highlighted that the amounts paid by those companies for streaming rights created a challenge for sales agents, and that expansion was needed to make them viable options.
Fischer added that he hopes more large media companies will launch their own VoD platforms into the market to create more choice.
Stais also said that distributors operating on the traditional, theatrical circuit were currently not inclined to take risks on films from unestablished directors, particularly if they were not English language, because of the crowed exhibition market.
With such a wealth of content on offer both in cinemas and on TV and streaming platforms, O'Keefe noted that "the bar is getting higher all the time" to motivate a consumer to actually got to a theatre.
"I don't know how independent cinema is going to survive the way things are going in the traditional market at this point," commented Fischer.
New models
Stais' company is one wing of Greek outfit Heretic, which also operates a production division and a marketing arm. She said that this joined-up approach was cruclal so that sales companies could offer a complete package.
"We want to work really closely with filmmakers and producers to have a long-term relationship. The idea is to discover talent and stay with them for the long run," she said.
Good marketing can make all the difference to a film, she added, pointing to an example of a recent P&A screening in Sundance that she packed out with more than 150 professionals despite it being a debut Danish title, which she largely put down to the quality of the film's poster.
Fischer said that he believes that sales agents should evolve to "become international distributors". "There is not enough room for both [a sales agent and multiple distributors] on every film," he explained, suggesting that sales companies could realign their operations to have direct relationships with exhibitors in certain territories.
He said that there should be "100 times more buyers than sellers at markets" but recently he was finding there are sometimes more of the latter.
Stais pointed out that the entire industry is undergoing significant change and that previously well-defined parts of it are becoming less clear. "Festivals used to be festivals and now they're doing distribution. VoD platforms are doing theatrical releases. Exhibitors are also distributors. There's a way of combining everything together to get the best release for your film," he concluded.