Screen reports from the live event movie, which was filmed last night (Jan 20) in the UK capital.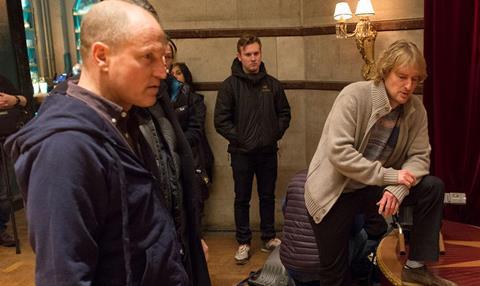 For his first film behind the camera, writer-director-star Woody Harrelson has taken a number of recent cinematic and broadcast innovations, most notably one-shot movies (Victoria and Russian Ark), real-time storytelling and live broadcasts, and rolled them into one extravagant event.
Lost In London was beamed live in 500 screens across America but just a single cinema in London on account of its 2am shoot. The film contained 24 locations, including a restaurant, a nightclub, a police cell and Waterloo Bridge (whose sudden closure almost derailed the show), and more than 30 actors.
The preamble to the London screening was filled with clips of well-known celebrities (including Daniel Radcliffe, Justin Timberlake and Jennifer Lawrence) teasing Harrelson for taking on what they jokingly referred to as a great folly. Harrelson's script maintains this light-hearted tone as it recounts details of the worst night of his life when he was arrested for smashing the back of a taxi on June 7, 2002.
Harrelson has written his own character as a schmuck. He's on the front page of the tabloids for partaking in an orgy with three women and lets his wife, Laura (Eleanor Matsuura), find out when she picks up the papers at a restaurant. Instead of going back to the hotel with his wife and two kids, he decides to go and party with an Iranian prince, and from that point on, his night goes from bad to worse.
Best and worst moments
Despite being based on true events, the nature of the plot means Lost In London eschews realism as it aims for comedy, though its least successful moments veer into pantomime.
Scenes often feel stilted and some of the performances are so exaggerated it appears like actors have forgotten they are performing for the camera rather than appearing on a West End stage.
At its best, the film has the quality of a Wes Anderson picture, which is ironic as it is over Anderson that Harrelson and Owen Wilson (Leonardo DiCaprio was the actor Harrelson actually bumped into on the night) have a fight in the film's best scene. In dialogue worthy of the Coen brothers' Hail Caesar!, Harrelson complains about the cost of using a fixer to keep the story of his orgy out of the papers.
The banter also sees the 'best-friends' attack each other's movies and hint at tabloid cover-ups by George Clooney, Lady Gaga and Daniel Day- Lewis.
Harrelson's penchant for witty Mamet-esque put-downs is not matched by his plotting. The story is cute and silly with too many fairytale elements. US country crooner Willie Nelson even shows up as an imaginary friend.
Technical curiosity
Nonetheless, as a technical curiosity Lost In London is a revelation. The camerawork by director of photography Nigel Willoughby (Downton Abbey, Penny Dreadful) is deeply impressive and recalls the fleet-footed style of Anthony Dod Mantle's Dogme95 work.
Whereas Sebastian Schipper's one-take wonder Victoria had the luxury of post-production to grade and work on the sound, here the most remarkable technical feature is the great sound work. Over 150 microphones were used to pick up the dialogue while pre-recorded music and a phone conversation with Bono are seamlessly intertwined with the live action. That said, a couple of scenes did inevitably have dialogue that sounded like a badly dubbed Hong Kong action movie.
It was a magic night of cinema which felt truly innovative, but it will be interesting to see if the film holds up after some post-production work and it is released as a stand-alone work. Without doubt it is good enough that several distributors around the globe will be happy to take a punt. US sales company Bloom has boarded the project ahead of the European Film Market in Berlin.
Woody Harrelson Q&A:
When did the idea to tell this story about this night in London come to you?
I thought of it a few years back. What do they say, "tragedy plus time equals comedy". I thought after the fact, even though it was a night that I didn't enjoy, "this could be funny". I tinkered around with the idea and then developed it.
Why did you want to do it as a live broadcast event?
Initially, I wanted to shoot the story in real time and this got me thinking about the merging of theatre and film. I thought, "How is that theatre if there is no live audience?", so then I thought that we could live stream it. I found out the reason that it has not often been done before is because there are a million obstacles; it is so difficult to do. The first person I called was [cinematographer] Nigel Willoughby as I've been a big fan since the first time I saw The Magdelene Sisters; he's a great DoP and true artist. When he said he'd do it, I said "great".
What was most challenging part?
We did have a snafu in one of the scenes. That was in the phone call. We overworked him so much and [actor] Peter [Ferdinando] is supposed to come in on the phone call and he just blanked out for a moment and missed his cue, so you see me and Martin [McCann] just riffing on the phone until he arrived. [Woody watches scene] That seemed like three minutes, but actually it was only a matter of seconds. I guess it wasn't so bad.
Getting Owen Wilson and Willie Nelson in the cast – how did that come about?
When I started writing the script, it was with Leonardo DiCaprio as he was the real person I bumped into on the actual night. But I couldn't think of a way to make it funny, so I wrote in Owen. At one point I was speaking to Owen on the phone and he said, "I'm here with Willie Nelson" and Willie asked if I could write him in. So I did.