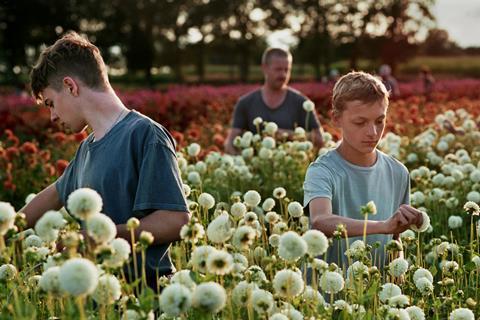 Lukas Dhont's second feature Close and Olga Lucovnicova's Last Letters From My Grandma are among the 46 feature and 27 series projects to be showcased at Re>Connext, the annual showcase for films and TV series made in Flanders and Brussels, Belgium.
Close is filmmaker Dhont's follow-up to Girl, which won the Camera d'Or following its premiere in Un Certain Regard at Cannes in 2018. Last year, the project was pitched at Re>Connext under the title The Invisible.
For this edition, drama Close returns as a work in progress, with first footage being shown after filming took place across the summer. It follows two 13-year-old boys with a close bond, who drift apart after their relationship is questioned by schoolmates. The Match Factory has acquired international rights.
Scroll down for full list of projects
Olga Lucovnicova, the filmmaker behind Berlin Golden Bear-winning short My Uncle Tudor, explores her grandmother's suicide in 1989 in her documentary pitch, Last Letters From My Grandma.
Actor Veerle Baetens is also set to present the first material from her directorial debut, When It Melts, as a work in progress. Baetens is best known internationally for her performance in Felix van Groeningen's Oscar-nominated The Broken Circle Breakdown. Her feature debut tells the story of a young woman who returns to her home village with a large block of ice in her car and the intention of extracting revenge from those who mistreated her as a child.
From October 4-15, industry professionals will have on-demand access to new project pitches, presentations of works in progress, and screenings of recent, new and upcoming titles. It is the second year in a row that Re>Connext is to take place entirely online.
Of the 46 feature titles selected for this year's edition, 12 are set to be pitched, 16 will be presented as works in progress, and 18 will be screened, and of the 27 series titles selected for this year's edition, seven are pitches, seven are works in progress, and 13 will be screened.
Re>Connext 2021 titles
Features
Project Pitches
Holly dir. Fien Troch (Prime Time)
Lazarus dir. Deben Van Dam (De Wereldvrede)
Wull dir. Tim Mielants (Pollock and Bacon/Lecter Scripted Media)
Carbon dir. Manu Riche (Menuetto)
In My Father's House dir. Rachida El Garani (Las Belgas)
Last Letters From My Grandma dir. Olga Lucovnicova (Off World)
Life Will Give You Pictures dir. Aldine Reinink (Zon*der_ling)
Louise-Marie dir. Daphne van den Blink (Lionheart Productions)
Nostalgia For The Future dir. Brecht Debackere (Visualantics)
Planet B dir. Pieter Van Eecke (Clin d'oeuil)
Seed dir. Dries Mertens (Associate Directors)
Sunrise Kids dir. Steven Dhoedt (Visualantics)
Works In Progress
Baghdad Messi dir. Sahim Omar Kalifa (a Team Productions)
Bittersweet Sixteen dirs. Anna Verheyen, Jan Verheyen and Lien Willaert (Max Rockatansky)
The Chapel dir. Dominique Deruddere (Savage)
Close dir. Lukas Dhont (Menuet)
Family Claus 2 dir. Ruben Vandenborre (Dingie)
H4z4rd dir. Jonas Govaerts (Potemkino)
The Mercator Trail dir. Douglas Boswell (Eyeworks Film & TV Drama)
Ritual dir. Hans Herbots (Eyeworks Film & TV Drama)
Round Trip dir. Dorothée van den Berghe (Caviar)
Sea Sparkle dir. Domien Huyghe (A Private View)
Spilliaert dir. Lisa Spilliaert (Escautville)
When It Melts dir. Veerle Baetens (Savage)
And Tomorrow The Whole World dir. Louisiana Mees (Diplodokus)
Beast dirs. Jillis Schriel and Joost Laperre (Lionheart Productions)
Iraq's Invisible Beauty dir. Sahim Omar Kalifa (Las Belgas)
Soundtrack To A Coup d'Etat dir. Johan Grimonprez (Zap-o-Matic)
Screening
La Civil dir. Teodora Ana Mihai (Menuetto)
Dealer dir. Jeroen Perceval (Savage)
Ferry dir. Cecilia Verheyden (De Mensen)
Hotel Poseidon dir. Stefan Lernous (Potemkino)
L'Inconnu(e) [working title] dir. Peter Monsaert (Lumière)
4 Seasons In A Day dir. Annabel Verbeke (Off World)
All-In dir. Volkan Üce (Cassette For Timescapes)
As Long As We Can dir. Philippe Niclaes (Diplodokus)
Before They Meet dir. Vytautas Puidokas (Off World)
Echo dir. Ruben Desiere (Accattone Films)
Holgut dir. Liesbeth De Ceulaer (prod: Minds Meet)
Kind Hearts dirs. Olivia Rochette and Gerard-Jan Claes (Accattone Films)
Liberland dir. Isabella Rinaldi (Off World)
Prism dirs. An van. Dienderen, El´ónore Yameogo and Rosine Mbakam (Elektrischer Schnellseher)
Radji dir. Georg Götmark and John Erling Utsi (Off World)
Where The World Ends dir. Anna Savchenko (Off World)
Why We Fight dirs. Mirjam Devriendt and Alain Platel (Cassette for Timescapes)
The Wire dir. Tiha Gudac (Off World)
Series
Project Pitches
Diamonds dirs. Rotem Shamir and Cecilia Verheyden (De Mensen)
Moresnet dirs. Frank Van Passel and Jonas Van Geel (Caviar)
Roomies dirs. Kato De Boeck and Flo Van Deuren (De Wereldvrede)
The Swimmer dir. Julie Mahieu and Max Barron (Lumière)
Styx dir. Jeroen Dumoulein (Eyeworks Film & TV Drama)
This Is Not A Murder Mystery dirs. Hans Herbots and Matthias Lebeer (Panenka)
Mobutu dir. Guillaume Graux (Panenka)
Works In Progress
1985 dir. Wouter Bouvijn (Eyeworks Film & TV Drama)
Arcadia dir. Tim Oliehoek (Jonnydepony)
Chantal dir. Jeroen Dumoulein (Eyeworks Film & TV Drama)
Lost Luggage dir. Nathalie Basteyns (De Mensen)
Two Summers dir. Tom Lenaerts and Brecht Vanhoenacker (Panenka)
Capturing The Pirate King dir. Lennart Stuyck (Diplodokus)
Voices Of Liberation dir. Koen Mortier (Czar)
Screening
3Hz dir. Sander Brants (De Mensen)
22/3: We Were There dir. Tim Tielemans (Haptic)
Alive dirs. Anthony Schatteman and Lenny Van Wesemael (Polar Bear)
Beau Séjour S02 dirs. Nathalie Basteyns and Kaat Beels (De Mensen)
F*** You Very, Very Much dirs. Bert Scholiers and Jonas Govaerts (Caviar)
Hate To Love You dir. Tim Van Aelst (Toreador)
Shaq dir. Inès Eshun and Anthony Nti (Caviar)
Soil dirs. Adil El Arbi, Bilall Fallah and Mathieu Mortelmans (Lumière)
Sophie Cross dir. Frank Van Mechelen (De Mensen)
Storm Lara dir. Kadir Ferati Balci (A Private View)
Under Fire dir. Joost Wynant (Geronimo)
We Need To Talk dir. Jeroen Dumoulein (De Mensen)
The Sound Of Seoul dir. Steven Dhoedt (Visualantics)