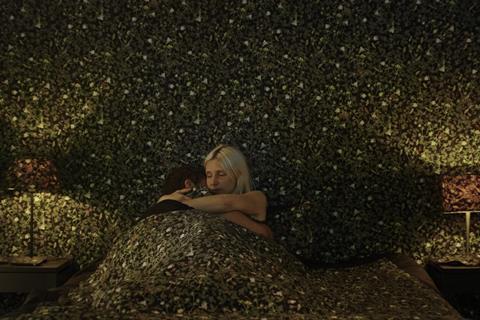 Raphaël Balboni and Ann Sirot's feature debut Madly In Life won the top prize of the international competition at Italy's Bergamo Film Meeting (BFM), which ran online this year from April 24 - May 2. The award, chosen by the festival audience, is worth €5,000.
The Belgian comedy-drama revolves around a couple played by Jean Le Peltier and Lucie Debay, who put their plans for a family on hold to care for Alex's monther who is diagnosed with dementia. It was produced by Helicotronc and had its international premiere at Tallinn in 2020.
Furthermore, the international jury, led by Tromsø International Film Festival programmer Martha Otte, awarded the €2,000 best director prize to Sonia Liza Kenterman for the Greek comedy drama Tailor.
Madly In Life earned a special mention.
In the Close-Up documentary section Pepe Andreu and Rafa Moles' Lobster Soup won the €2,000 audience prize, while the €1,000 jury prizewent to Tone Grøttjord-Glenne's All That I Am.
"As always, once the festival is over our job with distribution companies starts," says festival director Angelo Signorelli.
The BFM also partners with a cooperative called lab80 that in some cases acts as a distributor to release festival titles into Italian cinemas.
This year saw the BFM, which has made a name for itself by helping European arthouse films by first and second-time directors find Italian distribution, run online after it was cancelled altogether in 2020. Organisers hoped by scheduling in April, a month later than usual, it could run as a physical event but this was not possible due to the continued closure of Italian cinemas due to Covid-19 infection rates.
Signorellii said he believed some online aspects may be maintained even when a physical festival can be held again. "These new online possibilities we have discovered may be a way for small festivals to collaborate on a common ground on an international basis," he suggested. "Especially when talking about retrospectives. Also the relationship we've established with a platform such as Mubi opens many possible scenarios. Films remain available also after the festival has wrapped up."