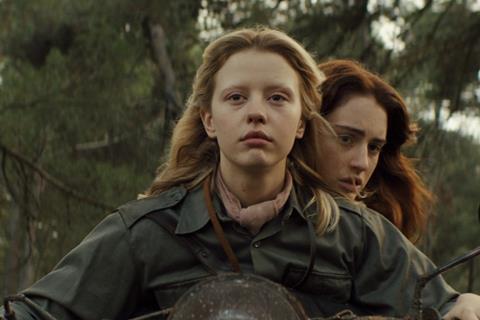 Magnolia Pictures International has licensed key territories during TIFF on action fantasy film Mayday including German-speaking Europe, Italy and Scandinavia.
Head of sales Lorna Lee Torres and international sales director Marie Zeniter negotiated deals with Koch Media for German-speaking Europe, Blue Swan Entertainment for Italy, Nonstop for Scandinavia, Baltics and Iceland, and Gravel Road for Africa.
In earlier deals Mongrel acquired the film for Canada, Volga for the CIS, and Front Row for the Middle East. Magnolia Pictures plans an October 1 release in the US in cinemas and on VoD.
Grace Van Patten, Mia Goth, Soko and Juliette Lewis star in the story of a girl who is transported to a dreamlike and dangerous land where she joins an army of girls engaged in a forever war along a rugged coast where women lure men to their deaths at sea via radio transmissions.
Though she finds strength in this exhilarating world, the new recruit comes to realise that she is not the killer they want her to be. Karen Cinorre made her feature directorial debut and the film premiered at Sundance before playing Rotterdam, Munich and New Horizon festivals.
Magnolia International's current sales slate features Tribeca horror thriller Agnes, Participant documentary Unseen Skies, Udo Kier SXSW comedy Swan Song and comedy Queen Of Glory.