Mumbai-based Film City is presenting a package of nine Marathi-language films at Film Bazaar, as part of the Maharashtra state's initiative to promote Marathi culture.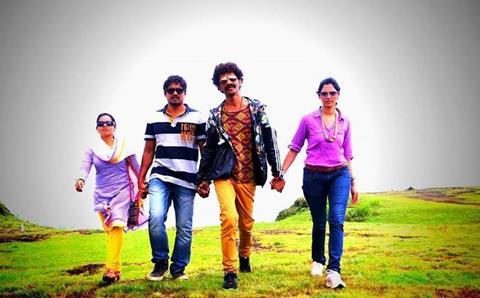 "It's the first time the Maharashtra government is promoting Marathi films at Film Bazaar, as a first step towards creating international exposure for Marathi films," said Sanjay Bhokare, managing director of Film City, who is also the deputy secretary of the Directorate of Cultural Affairs.
The company's joint managing director Sanjay Patil has brought a delegation of nine directors to Film Bazaar and their nine producers for the Producers' Lab. The company has arranged industry screenings for all the films, which are also available in the Viewing Room.
The films are mostly first features such as Mrunalini Bhosale's Kapus Kondyachi Goshta, Jayprad Desai's Nagrik, Bhaurao N. Karhade's Khwada, Shrihari Sathe's 1000 Rupee Note, Abhijit Panse's Rege and Atul Jagdale's Ganvesh.
The package also includes Atul Kale's third film Sandook, Nagesh Bhosle's second film Panhala [pictured] and Sandeep Sawant's second film Nadi Wahate.
Shrihari Sathe was pleased to have the opportunity to present his film 1000 Rupee Note, which has received more than 30 awards within India, at Film Bazaar. "I hope to get more international exposure for my film here. It's helpful with the industry screenings and the Viewing Room," he said.
The films were chosen by the Directorate of Cultural Affairs; the directors, producers and cast are all Marathi. With an annual output of approximately 100 films, Marathi marks the second biggest film language market in India, only behind Hindi. It is also the oldest regional film industry in India.
Last year, Avinash Arun's Marathi-language Killa won the Crystal Bear in the Generation Kplus section at the Berlinale. Other notable Marathi films include Sawant's Shwaas and Chaitanya Tamhane's Court, both of which have represented India in the best foreign language Oscar race (Court is still in the running this year).
Film City is an integrated facility with 16 studios and 75 outdoor locations spreading over 500 acres in Goregaon (East), north Mumbai. It is operated by the government-owned Maharashtra Film, Stage & Cultural Development Corporation, which is a subsidiary of the Department of Cultural Affair.
Film City is set to launch a beta version of a single window clearance system on its website, which will allow filmmakers the ease of submitting applications for filming permits online.