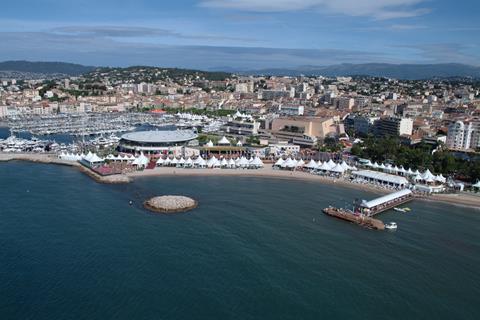 The Cannes Marché has unveiled the first list of films that will be showcased at its Pre-Cannes Screenings online event running June 21-25, ahead of its traditional physical edition alongside the Cannes Film Festival from July 6-15.
"We have around 1,000 screenings, 61% of which will be market premieres, and 150 exhibitors, or sales companies," said market executive director Jérome Paillard. "Many films will have two screenings so there will be around 500 films in total."
This compares with 262 virtual sales booths and 1,235 screenings at the market's first virtual Marché du Film Online, which ran in 2020 after physical editions of the festival and market were cancelled due to the Covid-19 pandemic.
Paillard emphasised the pre-screening event is a far more compact initiative aimed at buyers and festival programmers. It will not feature any conference or networking events. The wider Marché programme will take place physically in Cannes in July.
"The pre-screenings will only be accessible to distributors and festival programmers. There are currently 2,000 registered distributors," he said. There will be some press access for a limited number of titles but that will be at the discretion of the sales companies, he added.
The Pre-Cannes screenings will run on the marchedufilm.online platform, which will be a simplified version of the platform used for last year's virtual edition. Access to the site will be reserved for buyers and festival programmers registered for either the online or physical iterations of this year's Marché du Film.
Details of the participating companies and films registered so far can be viewed by clicking on the pre-Cannes button on the Marché's film industry database Cinando. The first list of films that will be available to screen or on sales slates went live on the site on Wednesday morning (June 2).
"Others will be published in the coming days as they are validated by the sellers," said Paillard.
Under Cannes Film Festival regulations, films in its Official Selection are not allowed to screen at the Pre-Cannes Screenings.
A separate US-led project launch virtual event will also run June 21-25.
Physical event
The Marché team also continues to push on with preparations for the physical edition in July. Paillard revealed the International Village is booked to 60% capacity while the exhibition halls are around 50% full so far.
"Most of the Europeans will attend," said Paillard.
He added there were already "good figures" for US distributors as well as senior executives from key US sales companies. He confirmed that the American Pavilion would not run this year but added that the team behind it were hoping to attend with a group of students to continue the work of its Ampav Worldwide Student Programme.