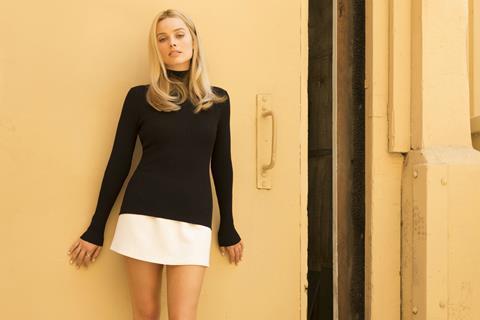 Margot Robbie has posted a first-look image on Instagram of herself as Sharon Tate in Quentin Tarantino's upcoming Once Upon A Time In Hollywood.
The film, set for release worldwide through Sony next summer, is a dramatic saga that takes place in 1969 and also stars Brad Pitt and Leonardo DiCaprio. It will open in the US on July 26, 2019, weeks before the 50th anniversary of Tate's murder at the hands of the Manson Family cult.
Tate, the American actress, model and wife of Roman Polanski, was killed while pregnant by followers of Charles Manson on August 9, 1969. It is understood Tate's character will only form part of the film's overarching story.
Tate's sister Debra Tate tweeted her endorsement of the project on Monday (August 6), adding that as a guardian of her sister's legacy she was happy with Tarantino's take on the story.
Tate wrote: "#Tarantino movie people think they know what this movie is, they don't I'm grateful to Quentin For letting me read the script, and sitting down with me to explain his vision [sic]."
Tarantino told exhibitors at CinemaCon last April that his ninth film would be close to Pulp Fiction in tone, adding that he would start shooting this summer in Los Angeles.
"Once Upon A Time In Hollywood takes place during that Hollywood era of 1969," the filmmaker said at the time. "It takes place at the height of the counter-culture explosion. It takes place at the time of the hippy revolution and it takes pace at the height of new Hollywood."
In late June DiCaprio posted on Instagram a first-look image of himself and Pitt in character.
The cast includes Damian Lewis, Dakota Fanning, Al Pacino, Emile Hirsch, Timothy Olyphant, Clifton Collins Jr, Tim Roth, and Michael Madsen.