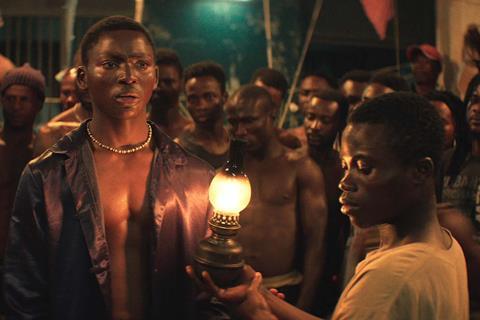 Memento Films International (MFI) has unveiled a fresh round of deals for Ivorian-French filmmaker Philippe Lacôte's Oscar-shortlisted prison drama Night Of The Kings.
The feature has sold to Australia and New Zealand (Rialto), China (Huanxi), Indonesia (PT Falcon), Mexico (Alameda), Brazil (Telecine).
In Europe, it has been acquired by Switzerland (Xenix), Benelux (Imagine), France (JHR), Spain (Flamingo) Poland (New Horizons), Romania (Transilvania), Portugal (Alambique) and ex-Yugoslavia (Kino Mediteran).
These acquisitions follow its previously announced sale to Neon for the US and Altitude for the UK.
Unfolding over the course of a tumultuous night in a violent Ivory Coast jail, the drama follows a young thief's fight to stay alive after he is pressganged into the role of a reluctant, modern-day Scheherazade.
It is Lacôte's second feature after his 2014 debut Run. The film world premiered in Venice's Horizons section last September and then played at Toronto, before making it onto the shortlist of 15 films for the Best International Film category at the Academy Awards as the Ivory Coast's entry.
Paris-based MFI also revealed fresh deals for Berlin-based Lesotho director Lemohang Jeremiah Mosese's award-winning drama This Is Not A Burial, It's A Resurrection.
It has sold to the UK (Aya Films), France (Arizona), Germany and Switzerland (Trigon), Benelux (Moov), Bulgaria (Beta Film), Latin America (Encripta), China (Huanxi) and Indonesia (PT Falcon).
The film, produced by Cait Pansegrouw and Elias Ribeiro at South African production company Ucuru, has recently hit cinemas in South Africa while newly launched New York-based theatrical and digital distributor Dekanalog kicked off a hybrid release campaign in April.
This Is Not A Burial world premiered in Venice in 2019 as part of its Biennale College selection and then played Sundance in 2020, where it won the world cinema dramatic section's special jury award for visionary filmmaking. It has since played a raft of festivals worldwide, clinching 37 prizes to date.
It was also Lesotho's first-ever Oscar submission for the 2021 edition but did not make it to the shortlist.