EXCLUSIVE: Vesna Cudic to head up new outfit; company's debut sales slate revealed.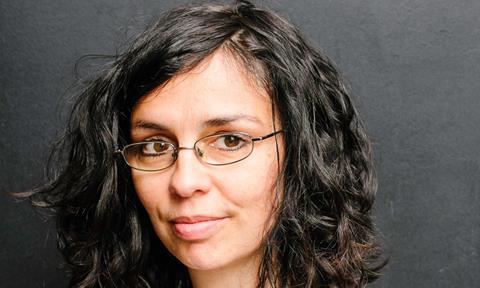 UK outfit Met Film has launched a new boutique international sales arm, Met Film Sales, which will offer a slate of high-end documentaries and TV series.
The company is being headed up by Vesna Cudic [pictured], previously head of acquisitions and sales at Dogwoof.
"I am really excited about this move to Met Film," Vesna told Screen. "I was attracted by the prospect of being involved in the projects from the start, helping with the finance and then selling them worldwide.
"We already have a slate of Met Film documentaries and series in varying stages of development and finance, and I'm also currently developing relationships with producers who can create content for us to sell, including fiction titles."
Vesna will be in Cannes this month launching the company's initial slate.
In further news, the company has also launched Met Studio, a new content production agency, headed up by Mike Burgess, offering bespoke branded long and short form content from young screen creatives and its Met Film School graduates.
"This is an exciting time for Met Film," Jonny Persey, Met Film director told Screen. "We have a new studio producing exciting content from our graduates; an exciting slate of new projects; and Vesna joining the Met Film world is great because we can get our own quality films out there and work with top producers to release their content."
Details of Met Film Sales debut slate:
Alex Parkinson and Richard Da Costa's feature documentary Last Breath, backed by BBC Scotland, about a commercial diver stranded on the seabed with five minutes of oxygen and no chance of rescue. It will feature archived footage, dramatic reconstructions and interviews with those involved. Met Film's Al Morrow is producing, alongside Angus Lamont at Crab Apple Films and Dylan Williams (owner of AMP Film). Met are in negotiations with Arte Zdf, and production is due to begin in Q3 of this year.
Bafta winner Alison Millar's documentary Searching For Shergar, which attempts to unravel the kidnapping of the famous stallion by the IRA in 1983. Millar is also producing, alongside Rachel Hooper, Erica Starling Productions, with funding from the BBC. Production is due to begin in Q4, 2017.
The Man Who Would Be King director Jeanie Finley's new feature documentary Luxury Bitches, about a group of female bloggers leading the fight to transform perceptions of overweight people. Finley is also producing, with Al Morrow executive producing, and BBC Scotland are backing the project, which is currently in development.
Feature documentary After A Revolution, which filmed over four years, is an epic story of a brother and sister struggling to re-build their lives after fighting on opposite sides of the Libyan revolution. Al Morrow is producing, Jerry Rothwell and Jarreth Merz are executive producing, and the Sundance Institute is a funding partner. Currently in production.
Sour Grapes director Jerry Rothwell's new feature documentary, The Edge Of Chaos, about an Indian professor who sets up a 'school in the cloud' for children in rural India who have never experienced the internet before. Currently at editing stage. Met Film's Al Morrow and Dan Demissie are producing. Funding is coming from the Sundance Institute Documentary Film Program and TED Prize Filmmaker Award.
Multi-award winner Daisy Asquith's feature documentary Greatest Mother Fucker about the life and performances of acclaimed singer-songwriter John Grant. Produced by Kat Mansoor, Al Morrow and Kristin Olafs, this is a Met Film & Klikk Production, with funding from the Wellcome Trust. Currently in post-production, it's due for delivery in Q4 2017.
Further titles
Aside from the sales slate, Met Film Production also has a host of other fiction and documentary titles in development and pre-production. These include:
Hip Hop Hoax, about a fake Californian hip hop duo, which is being written by Neil and Rob Gibbons (Alan Patridge: Alpha Papa). Stewart Le Marechal and Anna Mohr Pietsch are producing along with Lila Rawlings from LeftBank Pictures.
Oliver Parker's Swimming With Men, based on the acclaimed documentary Men Who Swim, about a group of middle-aged synchronised swimmers, starring Rob Brydon, which started shooting on May 2. The film is produced by Met Film Production's Anna Mohr-Pietsch and Stewart le Maréchal and Dignity Finance's Maggie Monteith. The film will be released in the UK by Icon in 2018 and is being sold internationally by HanWay.
Met Film also has a science fiction feature film in development called Sick Robot. The film is about a robot quarantined on a space station who starts to suspect he's actually human. The script is by newcomer Paul Valnay and Carl Tibbetts (Black Mirror, Retreat) will direct. The film is a co-production between Met Film and Stigma Films, with Anna Mohr-Pietsch and Matthew James Wilkinson producing and Stewart le Maréchal executive producing. Met is in discussions with two American partners and hope to shoot end of 2017.