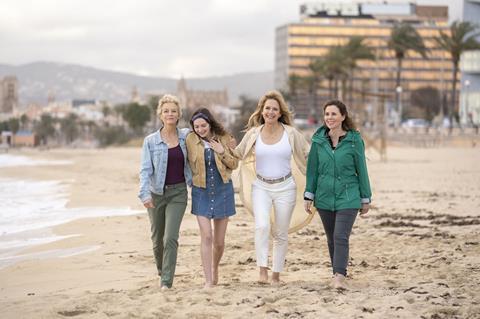 UK sales outfit Metro International has sealed several key deals for interrailing comedy Off The Rails, including for the US and Canada.
The film has sold to Screen Media Ventures in the US, with a release planned for Mothers' Day 2021 (May 9).
Further sales include Canada (Vortex), Australia-New Zealand (Village Roadshow), Spain (DeaPlaneta) and South Africa (Empire Entertainment).
The film shot on location across Europe last year and completed post-production last month; it was the final acting role for US actress Kelly Preston before her death in July this year.
Off The Rails is a comedy about three fifty-something women who set out to repeat the European interrailing adventures of their youth, after a close friend passes away and leaves them rail tickets. Her final request is that they take her teenage daughter along with them.
The film is Jules Williamson's directorial debut, written by Jordan Waller. Bill Kenwright produced for his UK firm Bill Kenwright Films, in association with Black Camel Pictures and Palma Pictures, of the UK and Spain respectively.
Alongside Preston on the cast are Jenny Seagrove, Sally Philips, Elizabeth Dormer Phillips, Ben Miller, Franco Nero and Judi Dench.
"Our commitment to [Off The Rails] has only deepened since we lost our beloved Kelly," said Kenwright. "It's about women reclaiming their true selves – and celebrates friendship, love, joy and freedom – a welcome antidote after a difficult 2020."