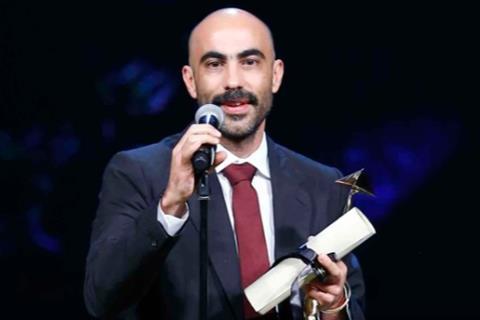 Immigrant drama I Am No Longer Here, from Mexican director Fernando Frias, has won the Golden Pyramid for best film at the 41st Cairo International Film Festival.
Scroll down for full list of winners
Frias' timely drama centres on a Mexican teenager forced to move to the US after getting on the wrong side of a drugs cartel. Its young star, Juan Daniel Garcia Trevino, was feted with best actor.
Also in the international competition, Belgian director Bas Devos won the Silver Pyramid for urban night-time odyssey tale Ghost Tropic. The Bronze Pyramid was shared by Chinese drama The Fourth Wall by Zhang Chong and Zhang Bo and Czech drama A Certain Kind Of Silence by director Michel Hogenauer.
Palestinian filmmaker Najwa Najjar took best screenplay for her romantic road movie Between Heaven And Earth.
Mindanao, from Philippine director Brillante Mendoza, was feted with two prizes. Judy Ann Santos won best actress for her performance as the mother of a young girl going through cancer treatment. The film was also awarded best artistic contribution.
Arab Cinema Prizes
In the separate Arab cinema competition, the winners were led by family drama A Son, from Tunisian director Mehdi Barsaoui. It picked up best Arab film and the special jury award as well as the UNFPA Award.
Iraqi filmmaker Mohanad Hayal won best director for Haifa Street – exploring sectarian violence in the heart of Baghdad – while Ali Thamer won best actor for his performance in the film.
The award for best non-fiction went to Lebanese Elie Kamal's Beirut Terminus, a haunting reflection on his divided home city through the prism of a defunct railway line which once crossed Lebanon.
In the Cinema Of Tomorrow competition, focused on emerging Arab talent, Palestinian director Wisam Al Jafari, won the best short film prize for his work Ambience, capturing life in the refugee camp he calls home through the tale of a musician looking for a quiet place to record a track. Al Jafari was also feted at CIFF this year as one of Screen International's Arab Stars of Tomorrow.
CIFF has recently been awarded Oscar-qualifying status by the Academy Of Motion Pictures Arts and Sciences (AMPAS) so the win means Ambience is now eligible for consideration in the animated and live action short film categories of the Academy Awards, without a theatrical run. The work will screen in Los Angeles on Dec 14 at a joint event organised by NewFilmmakers Los Angeles (NFMLA) and AMPAS.
In the International Critics' Week award section, Costa Rican filmmaker Sofia Quiros Ubeda won best film for Land of Ashes while Romanian director Andrei Cohn won the special jury award for Arrest.
Cairo International Film Festival Winners 2019
International Competition
Best Film (Golden Pyramid): I Am No Longer Here, dir. Fernando Frias
Special Jury Award (Silver Pyramid): Ghost Tropic, dir. Bas Devos
Best First Or Second Work Of A Director (Bronze Pyramid)
The Fourth Wall, dirs. Zhang Chong, Zhang Bo
ex-aequo
A Certain Kind Of Silence, Michel Hogenauer
Best Screenplay: Between Heaven And Earth, Najwa Najjar
Best Actor: Juan Daniel Garcia Trevino, I Am No Longer Here
Best Actress: Judy Ann Santos, Mindanao
Best Artistic Contribution: Mindanao, Brillante Mendoza
FIPRESCI Prize
Sons Of Denmark, Ulaa Salim
International Critics Week Prize
Best Film: Land Of Ashes, Sofia Quiros Ubeda
Special Jury Award: Arrest, Andrei Cohn
International Jury: Arab Competition
Best Arab Film: A Son, Mehdi Barsaoui
Special Jury Award: A Son, Mehdi Barsaoui
Best Arabic Film Awarded To Director: Haaifa Street, Mohanad Hayal
Best Non-Fiction Award: Beirut Terminus
Best Actor: Ali Thamer, Haifa Street
Cinema Of Tomorrow
Best Short Film: Ambience, Wisam Al Jafari
Special Jury Award: The Marvelous Misadventures Of The Stone Lady, Gabriel Abrantes
Special Mentions: Contact, Smair Syriani / The Trap, Nada Riyadh
UNFPA Award
A Son, Mehdi Barsaoui
Audience Award
Let's Talk, Marianne Khoury