The documentary film-maker voiced his opinions at a press conference ahead of the release Where To Invade Next.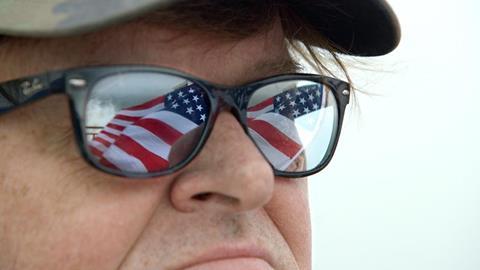 Speaking at a press conference ahead of the release of his documentary Where To Invade Next, US director Michael Moore has expressed surprise at the prospect of Britain exiting the European Union as a result of the forthcoming referendum.
"It's not my place to tell you what you should do, but as an outsider I can say 'Why would you do this?', Europe exists today in a large part because of you, the UK, you sacrificed and suffered in the 1930s and 40s to save Europe, why would you want to leave?," he said.
Where To Invade Next, which sees Moore travelling across Europe searching for positive lessons that the US can learn from other nations, is being released in the UK by Dogwoof tomorrow (June 10) and opens Sheffield Doc/Fest this weekend.
Quizzed as to whether Moore felt the film's release in such proximity to the vote could have a role to play, he reiterated that he didn't believe it was his place to have a say, but that he hoped the film could serve as a timely reminder: "When we were making this film, we thought Europeans would love it, because it's a reminder to you [in Europe] of the good things you have," he said. "Yes there are some problems, but fix them, quit complaining."
However, he added there is hope that the vote may favour 'remain': "Britain throughout history eventually will do the right thing. How odd it seems to us that you would want to leave Europe."
Donald Trump
Responding to a question about the prospect of Donald Trump becoming president of the United States, Moore momentarily dropped his light-heartened persona and took a more sombre tone. "I think there's an excellent chance Donald Trump will become president, we need to take that very seriously," he warned.
"He supports a 21st Century version of fascism. I don't believe the majority of Americans agree with him, but it's about who turns up to vote. If people show up to vote there's no problem, but that's the problem."
He also called for Brits to do their part when Trump visits the country on June 24, the day after the referendum, to open a golf course in Scotland. "I hope satire is what brings Donald Trump down. You are the masters of it," said Moore.
His producer, Carl Deal, also revealed that, following a congressional screening of Where To Invade Next to which "at least nine of the 535 members showed up", they would be posting every member of congress a DVD of the film.
Jeremy Corbyn
Moore also revealed himself as a believer in Labour party leader Jeremy Corbyn, following criticism of former leader Tony Blair.
"Corbyn is a wonderful step forward for the Labour Party in this country," he said. "It's getting back to Labour's roots. Talk about atonement for Blair."
He also referred to Britain under David Cameron as "a toxic place".
Future projects
After Where To Invade Next, his sixth feature, Moore shows no sign of slowing down in his fight against the powers that be.
He added that he has yet to decide how that will next manifest, but that he is considering a return to the television medium after years in film (he used to host a show called TV Nation), though he is slightly put off because it is "a lot of work".