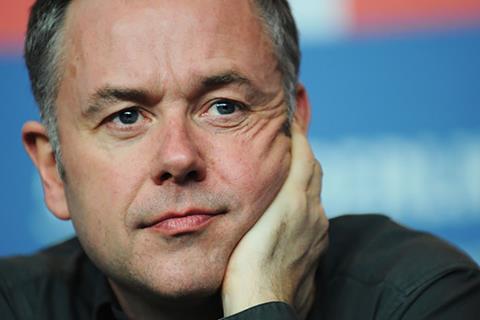 Prolific UK director Michael Winterbottom has railed against the pace of filmmaking in the UK, saying it has become the norm to make a film just once every three or four years.
"It's worth remembering that in the heyday of cinema, everyone was making a film a year," said the director who has made over 30 films in his career. "People were making 20 or 30 films – that, I think, is healthy. If you think about how things have changed since then, nothing has got more complicated; in fact it has got easier. [But] the average now is probably one every three or four years."
Winterbottom was talking at the Doha Film Institute's Qumra event at which he delivered a masterclass. He cited the examples of fellow Qumra master Lynne Ramsay, who has made four features in 24 years; and Andrea Arnold, who has done five features in 17 years.
He also referenced the 15 UK directors he interviewed for his 2021 book Dark Matter: Independent Filmmaking In The 21st Century.
"I noticed two-thirds, three-quarters had made less than a handful of independent films in the UK," said Winterbottom, with directors citing reasons including going to work in the States, and moving to studio projects or television. "In the UK it's become the idea that after the first two films, you'll be in America."
He acknowledged the relevance of festivals in getting these films made, with the example of Ken Loach as a filmmaker who knows there will be a launchpad for his work. "Every film Ken makes, Cannes takes."
In a wide-ranging discussion, Winterbottom also had criticisms for the influence of streaming platforms on the independent industry. "If independent cinema's home is platforms, it means it will be even more America-centric than it is now," said the director. "If I was Noah Baumbach, I might feel Netflix or whoever has been brilliant, because it has given me a lot of money to make films I wouldn't get to make" – but this did not apply to UK filmmakers, according to Winterbottom.
Career continuum
Clips were shown throughout the masterclass of Winterbottom's work across his year career, including from Sky series This England, about Boris Johnson and his government's handling of the early days of the Covid-19 crisis.
His films often have a foot in both fiction and non-fiction camps and he described the two formats as "a continuum".
"Even if you're filming a fantasy film in front of a green screen, there's an element of document," said Winterbottom, adding that documentaries also require an element of construct via scheduling and shot selection. He illustrated his point with clips from two of his films – 2002's in This World, which is typically categorised as drama; and 2006's The Road To Guantanamo, which is sometimes considered documentary. "I don't know which one counts as which."
He said had been surprised by how difficult it had been to get his most recent film Eleven Days In May widely distributed. The documentary is about the 60 children who were killed in 11 days of bombing of the Palestinian territory of Gaza in May 2021. Winterbottom directed the film alongside Palestinian filmmaker Mohammad Sawaf, who shot all the footage in Palestine of families of the deceased children.
Eleven Days In May was produced by Winterbottom's Revolution Films. As reported by Screen, the company made its distribution debut by releasing the film theatrically in the UK on May 6 last year, to coincide with the first anniversary of the film. Efforts to secure broadcast distribution have been unsuccessful, which Winterbottom ascribed to anti-Palestinian sentiment
"If you support Palestinians, you're going to get accused of all sorts of things in the UK and outside," said the director. "We had a much more difficult time getting it out there than I would've expected."
Promised Land
As for future projects, Winterbottom teased he is "doing another film at the moment which is something of a true story." He said he had "a couple of projects that could happen" this year. Those will "definitely not" include returning to his multi-series The Trip with Steve Coogan and Rob Brydon, which Winterbottom said is finished for good.
He is in the edit for Shoshana - formerly Promised Land - a drama based on a true story set from 1938-42 about two British police officers in an anti-terrorist squad, chasing Zionist freedom fighter Avraham Stern.
Winterbottom said the film will not be ready for Cannes 2023, with an autumn festival berth most likely.
The six-day Qumra event ends today; with a series of online screenings and meetings running from March 19-21.