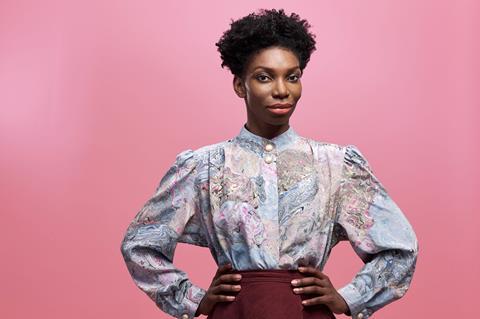 Writer and actress Michaela Coel has laid down the gauntlet for producers to better protect 'misfit' talent and be more transparent about budget pressures and production challenges.
Delivering the Edinburgh TV Festival's MacTaggart Lecture, the creator and star of E4's Chewing Gum recalled her reticence to rock the boat by asking for a writing extension on the show even after she was sexually assaulted.
Coel said she called producers at Fremantle Media UK label Retort for help before she contacted her own family. The company funded her therapy at a private clinic.
But she recalled her struggle to request to push back the deadline. "I wasn't sure how damaging it would be to the company, so couldn't ask," she said.
"Someone was transparent with me. 'They won't offer you the break', a colleague said. 'That's not the way it is. You have to take it.'"
She asked for an extension, and to tell the channel the reason. Her wish for more time was granted – but "the head of comedy never found out why".
For Coel, the incident highlighted a bigger question for the industry: "How do we operate in this family of television when there is an emergency? Overnight, I saw [Retort] morph into an anxious team, teetering back and forth between the line of knowing what empathy is and not knowing what empathy is at all."
Hinting at her BBC2 commission Jan 22nd (w/t), produced by Various Artists Limited, which will deal with issues of consent, Coel declared: "It's been therapeutic to write about it, and actively twist a narrative of pain into one of hope, and even humour, and to be able to share it with you, as part of a fictional drama on television, because I think transparency helps."
'Scrabbling for misfits'
In a speech that challenged the industry to be more responsible in working with new talent, Coel related her frustration in not being given an executive producer credit on Chewing Gum and in losing the international online rights to her 'baby' to Netflix.
Eschewing the word 'diversity' – "I couldn't get clarity on it" – Coel said broadcasters, production companies and online streaming services have been "scrabbling for misfits, like kids in a playground scrabbling for sweets – not sure of the taste just aware they might be very profitable".
This story first appeared on Screen's sister site Broadcast.