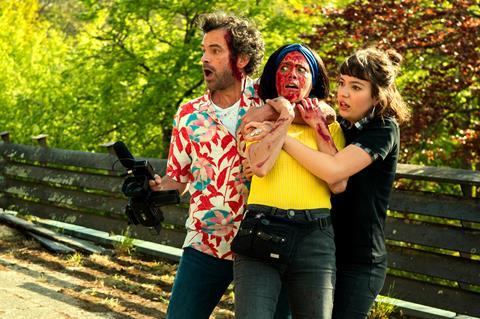 French director Michel Hazanavicius has renamed his Cannes opening film Coupez! for the French market and Final Cut for international territories from Z (Comme Z) due to the letter Z's association with Russia's invasion of Ukraine.
The zombie film makes its world premiere at Cannes next month and opens in France on May 17. French distributor Pan Distribution is in the process of remaking its marketing material with the new title.
The film is a French-language remake of Japanese director Shinichiro Ueda's 2017 cult hit One Cut Of The Dead about a B-movie shoot that descends into chaos. It shot in the spring of 2021 in Paris.
The ensemble cast is led by Roman Duris and Bérénice Bejo, with other cast members including Finnegan Oldfield, Jean-Pascal Zadi, Lyes Salem and Luana Bajrami.
The letter Z has been adopted by Russia as a symbol of support for the country's invasion of Ukraine since February 24, which has destroyed a number of its cities, displaced millions and killed thousands of civilians.
The announcement on April 14 that Cannes was going to open with a film titled Z caused consternation in the Ukrainian film world and their discontent had gained growing support in the wider cinema world.
"Given the symbolic charge the letter Z has taken on since the beginning of the war in Ukraine, and at the request of Ukrainian filmmakers, I've decided to change the name of my film," Hazanavicius said in a statement on Monday.
"This title was perhaps funny when we finished the film a few months ago, but that's not at all the case now and I can't keep it. My film was made to bring joy and I don't want to be associated with this war in any shape or form," he continued.
Hazanavicius thanked the film's production, distribution, marketing and exhibition partners for their support of his decision to change the name.
The Cannes Film Festival also endorsed the decision.
"With this choice, the film's director, producers, and distributor, the Festival de Cannes, and by extension, all the French cinema, mark their solidarity with the Ukrainian people who are suffering and reaffirm with force their opposition to the invasion of Ukraine by the Russian army," it said in a statement released after the title change was announced.
Sundance
The feature was originally due to debut at Sundance earlier this year but when the festival went online, it was pulled from the line-up, with the director and producers preferring to wait for a physical premiere.
It is produced by Hazanavicius's La Classe Américaine and Getaway Films with SK Global Entertainment and BlueLight, and co-produced by France 2 Cinéma. The film is supported by Canal+, France Televisions, SOFITVCINE 9 and Ciné +.
Wild Bunch International is handling international sales.