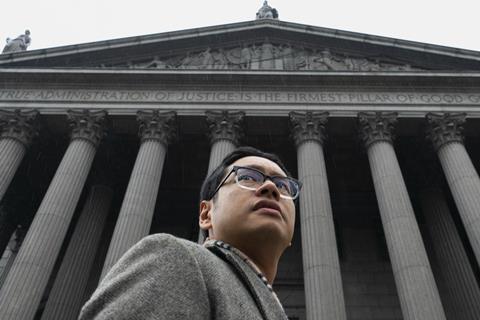 A 59-strong line-up at AFI Docs announced on Monday (June 8) includes Deirdre Fishel's exploration of race, gender and violence in the Minneapolis police department in Women In Blue, and a look at immigration policies under the Trump administration in Blood On The Wall by Sebastian Junger and Nick Quested.
The 18th edition of the festival takes place online this year due to the coronavirus pandemic, and is set to run from June 17-21.
As previously announced, AFI Docs will open with Sundance hit and Apple and A24 acquisition Boys State by Jesse Moss and Amanda McBaine, and closes with Mary Wharton's Jimmy Carter Rock & Roll President. The Centerpiece Screening is The Fight by lyse Steinberg, Josh Kriegman and Eli Despres.
Additional titles announced on Monday (June 8) include Julia Reichert and Steven Bognar's workplace gender equality film 9to5: The Story Of A Movement, Ron Howard's Rebuilding Paradise, and Maria Finitzo's Dilemma Of Desire.
The selection comprises films from 11 countries overall. There are 12 virtual world premieres, with 61% of the films directed by women, 25% by non-white directors and 14% by LGBTQ directors.
The second annual Cinema's Legacy programme highlights documentaries focusing on the fight for access to the US political system and the selections are: Freedom On My Mind (1994) by Connie Field and Marilyn Mulford, William Greaves's Nationtime - Gary (1972) and Sisters Of '77 (2005) by Cynthia Salzman Mondell and Allen Mondell.
The line-up includes Episodic and short films, and the shorts grand jury prize is a qualifying award for Oscar eligibility. Audience awards will go to a feature and a short based on votes cast by attendees throughout the festival. The winners of the audience awards for best feature and best short will be announced on Monday, June 22.
The 2020 Guggenheim Symposium will honour Oscar-winning actor and filmmaker Lee Grant.
"Now more than ever, it is important to expand our perspectives and listen to voices that may differ from our own, and this year's festival includes a diverse range of insights and experiences for audiences to share in," said Michael Lumpkin, director of AFI Festivals. "These films explore political and social issues in the US and across the globe, introducing us to the next generation of leaders and shedding new light on figures of the past."
Films will be available to view here.