Hybrid children's bug movie premieres in China at Shanghai International Film Festival today (June 19).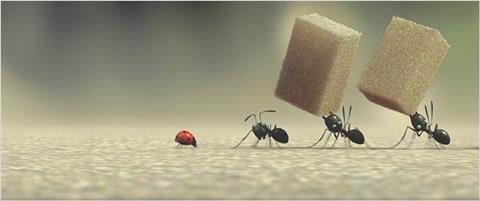 French hybrid children's bug picture Minuscule: The Valley of the Lost Ants (Minuscule: La Vallée des Fourmis Perdues) is to be released on 1,200 screens in China, the film's producers and sales agents Futurikon have announced.
Under a deal with Alexander Ma of Beijing-based Ifilmfilm, the picture will be released by state run distributor China Film Group in the third quarter of 2014.
Beofore that, it is due to premiere in China at the Shanghai International Film Festival today (June 19).
Thomas Szabo and Hélène Giraud's hybrid 3D work combines real-life backdrops shot in the Mercantour National Park in southern France with animated insects.
The format – which does not involve dialogue but rather "expressive buzzing" - is already well-known with young viewers around the world through a popular TV series, which has been broadcast by the BBC, NHK and the Disney Channel and ABC in the US.
The big screen version revolves around a battle between two tribes of ants for some sugar lumps left by picnickers.
"It has got all the ingredients to do well in China," Futurikon sales chief Fazia Madouni told ScreenDaily. "The story can be universally understood, Chinese audiences love visual humour with not much dialogue and 3D films are also popular in the country."
Szabo and Giraud are currently writing a script for a second film featuring the same universe and characters.
In the meantime, the first feature recently sold to Italy (Academy 2), Finland (Future Film), Norway (Star Media), Sweden (Studio S Entertainment) and Denmark (Mis. Label), Japan (Tohokushinsha Film) and Taiwan (Filmware International). It is due for release in Taiwan on July 11.
It has also been released in France by Le Pacte where it drew 1.5m spectators as well as Benelux (Cineart), Russia (Carmen Film Group) and Poland (Kino Swiat), grossing around €1m in the latter. It has also been doing good business in the Middle East where it has been rolled out in a number of territories by Falcon.