EXCLUSIVE: MIPTV organiser says security is "top priority" for TV and digital content market, taking place April 4-7 in Cannes.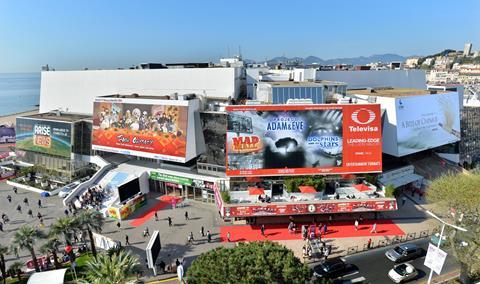 MIPTV organiser Reed Midem is promising maximum security for the TV and digital content market, unfolding April 4-7 in Cannes, as Europe remains on high alert following terror attacks in Brussels this week
"Client security is our top priority at Reed Midem. We liaise throughout the year with the relevant authorities at a national and local level in order to ensure the best possible security measures are put in place," Reed Midem director of communications Mike Williams told Screen.
Under new security measures, the delegate entrance has been pushed back from the main doors of Cannes Palais du Cinema to a point some 15 metres from the building.
Delegate badge scans and security checks will instead be carried out at a new entry point in front of the main steps to the Palais.
Baggage will no longer be allowed in the Palais with feft luggage facilities being provided outside the new perimetre.
No vehicles will be allowed within the perimetre once the "build-up" period has finished and the event has commenced.
Williams said similar measures were in place during Reed Midem's real estate show MIPIM in the middle of March — attended by some 24,000 people - and that entries and exits to the event went smoothly.
France reinforces security
Security measures have been increased across Europe since terror attacks on Brussels' airport and metro system on Tuesday killed 31 people and injured another 270.
France's Interior Minister Bernard Cazeneuve announced that an extra 1,600 police officers and paramilitary police would be deployed across the country.
Their presence would be particularly reinforced at borders as well as in airports, ports and train stations.
France was already in an official state of emergency following attacks in Paris on November which killed 130 people, 89 of them at the concert venue the Bataclan. Both events are believed to have been orchestrated by gangs affiliated to so-called Islamic State.
Airport
In an interview with local newspaper Nice Matin, François-Xavier Lauch, chief of staff for the Alpes-Maritimes Prefect, said security patrols had been increased at Nice airport and other public transport hubs following the Brussels attacks.
"There are patrols at the train stations of Nice and Cannes and another patrol in Cannes," he said.
He added that "no specific threat" has been identified for the Alpes-Martimes department.
Cannes sets up anti-terrorism plan
Meanwhile, Cannes city council has drawn up a larger anti-terrorism plan in the wake of the November attacks.
According to reports in the French media, Cannes Mayor David Lisnard ordered a full security audit from Israeli counter-terrorism expert Nitzan Nuriel, a former general in the Israeli army in the wake of November's attacks.
On the basis of his recommendations, French media report that there will be more controls at the entry points to the town.
Detailed plans of all the main hotels on the Croisette have also reportedly been made available to France's special operations unit the National Gendarmerie Intervention Group (GIGN).
To prevent an attack from the sea, vessels will not be allowed to enter the Bay of Cannes without first being checked by maritime police.
Simulation exercises are also due to take place in the town ahead of the opening of the film festival on May 11. A number of such exercises have already been carried out in cities across France, including Nîmes and nearby Nice.
Cannes Film Festival has yet to communicate on security measures at this year's festival.
Euro 2016
France's security forces face a major challenge this summer in the shape of the Euro 2016 soccer championship, taking place across 10 French cities form June 10 to July 10.
Some 2.5 million fans are expected to attend the matches with another 7.5 million fans watching in designated fans zones outside the stadiums.
In the wake of Tuesday's attacks, Cazeneuve said that security measures surrounding the tournament were already at a maximum and could not be increased further.
He said that France's position was not to give into terrorism and that the event should go ahead as scheduled.
There will be systematic pat-down searches of fans as they enter the stadiums as well as the use of metal detectors and surveillance cameras.