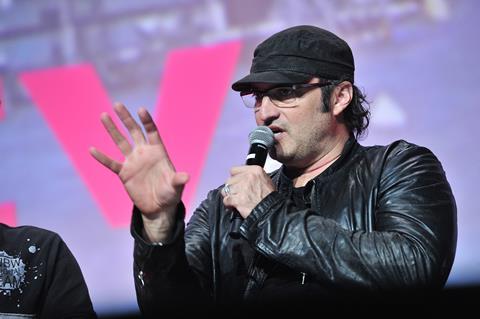 Cult US filmmaker Robert Rodriguez previewed his upcoming action VR work The Limit, starring Michelle Rodriguez as a genetically enhanced weapon of mass destruction hellbent on destroying the covert agency that created her, at MIPTV on Tuesday, in its first ever world sneak peek.
The project is the first production to come from a pipeline of high-end VR works featuring top Hollywood talent currently being produced by STXsurreal, the VR and immersive content division of STX Entertainment.
STXsurreal's co-founders Rick Rey and Andy Vick explained at the showcase how they were on a mission to bring VR into the mainstream and also make it commercially viable through quality content, tapping into A-list talent and blockbuster production values.
The Limit is a first-person action adventure teaming the viewer with actress Rodriguez's character as they embark on a series of adventures worthy of the director's past action-filled features such as From Dusk To Dawn, Machete or Sin City.
Rodriguez told content professionals at the MIPTV showcase that he had been drawn into VR via his son Racer Max Rodriguez, who co-wrote and directed, and joined the director on stage alongside Rey and Vick.
"I have been making movies now for 25 years and one of my favourite and one of our most lasting family films was [The Adventures of] Sharkgirl and Lavagirl, which Racer came up with when he was seven-years-old. We've worked together over the years… and I asked him a few years ago whether he would be interested in getting into film story-telling and he said, 'no, I want to do VR story-telling," said the filmmaker.
"I was like VR, really? I guess that's what the kids are into… well let's start a company together and start making some VR projects so I can figure out what that is because I wanted to learn. For him to be that compelled with it and choosing it over traditional storytelling, I thought there must be something there and I'm not well versed in it. Usually, when I am not well-versed in something the best thing do is to go into it, make something and then you'll figure out."
Huge VR audience
After setting up their joint company Double R Productions, Rodriguez was then connected to STXsurreal's Rey and Vick, while working on another project for parent company STX Entertainment. The pair visited Rodriguez at his studio in Austin.
"They said something that really resonated with me. They said, 'Look people are always waiting for the next generation of VR before they get into it but we think you could do something really incredible with the tools that exist now…. there is not just enough content and 10 to 15 million headsets out there. You could do something really innovative'."
"That just spoke to me because that has been my whole career. I started shooting digital before anyone started shooting digital to figure out what that was. I made the first digital 3D movie before there were enough digital screens to even show it on. There were only three digital screens in the whole of the United States when I made Spy Kids 3D. I kind of found that if you get in as an early adopter to figure out a new technology it helps propel everyone into the future a lot faster."
STXsurreal's Rey explained that to create more of a "lean-back", experience, The Limit, which will eventually run to 20-minutes, had been shot as a 220-degree work rather than as a 360-degree work so that the viewer can look up, down, left and right but not behind.
Bringing in his former Machete star, actress Rodriguez, the director wrote the script in a week, shot it over five days and produced a rough-cut over a weekend on an edit suite in his home. He did not disclose the budget.
"It was hard to cut. I have an avid machine at home but avid doesn't work with a VR helmet so I edited it kind of stretched out flat and warped, by memory, and would send it to Racer in a file. He would watch it in VR, send me back notes and I would adjust. You know you're really at the forefront of doing something when you don't have the technology to even edit the thing… that was pretty exciting."
Mainstream talent
Casting his long-time collaborator actress Rodriguez in the lead role was a natural move, he said.
"I was working with Michelle Rodriguez on Battle Angel and I was like, 'Hey, you should get into VR with us. It would be really bad-ass, two Hispanic filmmakers doing this futuristic VR filmmaking," he recalled, adding it was the actress who had come up with the POV idea.
"We thought it would be cool to make something where you felt like you were inside a motion picture, have the ability to look around but actually be a character alongside with her, jumping out of an aeroplane, going through urban warfare, going through an action film basically but being inside. Usually, when you do POV in a movie it doesn't work but it works really well in VR. You really feel like you're there and you're in there with her."
The film, which is currently in post-production, will premiere on STX's previously announced pay-per-experience App-based VR channel Surreal, which is currently in development for a mid-summer launch.
Other high-end VR projects in the works at STXsurreal include a new comedy series from The Office star Ed Helms, an untitled Dave Bautista action-comedy, a spinoff of STX's Mile 22 film franchise from director Peter Berg, a Jay and Silent Bob project from writer and director Kevin Smith, and a Sci-fi-thriller from John Wick writer Derek Kolstad.
Quizzed during the presentation on how easy it was to switch mainstream talent onto VR filmmaking, Vick replied: "There are people who sort of need to see it before they believe and there are people who are willing to take that leap. Robert has been doing this his entire career, doing things that have never been done. There are less people in that bucket. For the people who end up taking those big risks, a lot of the time it ends paying off."