Fantasy epic L.O.R.D.: Legend Of Ravaging Dynasties grosses $29.2m from four markets.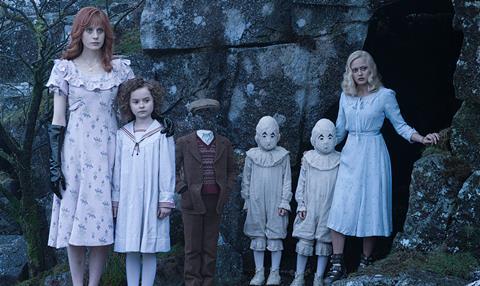 FOX INTERNATIONAL
UPDATED: Opening its doors in 59 markets day-and-date with North America, Miss Peregrine's Home For Peculiar Children recorded a confirmed $37.4m overseas bow.
South Korea led the way with a $5.3m debut, followed by the UK ($4.5m), Mexico ($3.8m), Australia ($3m), Brazil ($2.7m) and Spain ($2m). The Philippines delivered $1.7m for director Tim Burton's best opening in the market.
Miss Peregrine's Home For Peculiar Children lands in 20 markets this week, including France, Russia, Germany and India.
Fox International Productions and Fox Star's M.S. Dhoni: The Untold Story bowled over audiences in India with a $13.9m debut, the second biggest of 2016 and Fox Star's third biggest opening weekend. The cricket drama grossed $14.2m at the weekend including $237,435 in the UK.
Morgan stands at $427,196 and grossed $348,877 in its opening weekend in France.
CHINESE TITLES
From its three territories, I Belonged To You grossed an estimated $33.6m for $44.6m to date, according to ComScore.
Dante Lam's Operation Mekong posted a $23.8m debut in China, while action-comedy Mission Milano took $15.1m from its three territories.
LIONSGATE INTERNATIONAL
UPDATED: Guo Jingming's fantasy epic L.O.R.D.: Legend Of Ravaging Dynasties launched with a confirmed international debut of $29.6m from its four markets, the majority coming from a number two bow in China, where approximately $2.3m came from 325 Imax screens.
Deepwater Horizon drilled up $12.5m on its overseas debut, with the UK leading the way as it posted a preview-boosted $2.5m opening. The film also opened in the Middle East ($2.3m), Russia ($1.1m) and Mexico ($980k). The film lands in Australia and Italy this week.
UNIVERSAL PICTURES INTERNATIONAL
UPDATED: In its third weekend of overseas release, Bridget Jones's Baby delivered a further estimated $18.4m from its 50 territories for $99.3m to date.
The Working Title production, presented by Universal, Miramax and Studiocanal, opened in South Korea with a preview-boosted $2.5m debut from 342 sites and in Brazil with $555k from 238 sites.
In holdovers, the rom-com retained the top spot in the UK for the third straight week with $6.2m for an excellent $40.6m after only 17 days, while Italy added $1.6m for $4.2m and Australia took $1.4m for $10.3m.
Bridget Jones's Baby opens this week in French-Switzerland, Chile, Uruguay and Venezuela. Universal does not hold distribution rights in France, Germany and Austria.
Posting a chart-topping $463k bow in South Africa, The Secret Life Of Pets hopped to $8m from its 53 territories for $469.9m.
Illumination Entertainment and Universal Pictures' hit animation enjoyed a $2.5m fourth weekend in Australia for a local tally of $18.5m and held the top spot in New Zealand with $481k for $2.2m. It opens in its final market of Italy this week.
Laika's Kubo And The Two Strings sailed to $1.5m from its 25 territories for $14.7m overseas and $61.3m worldwide. It opens in Mexico, Czech Republic, Estonia, Hungary, Lithuania, Slovakia and Slovenia this week.
The Purge: Election Year and Jason Bourne have now amassed $37.8m and $237.4m, respectively, ahead of their final releases in Brazil and Japan next weekend.
SONY PICTURES RELEASING INTERNATIONAL
UPDATED: Opening in six new markets, The Magnificent Seven shot to an additional $14.2m from 68 Sony and MGM markets for $45.9m.
The western remake, which MGM and Columbia Pictures co-financed, opened to $2.7m in Australia and $1.9m in France, while it added $1.2m in the UK for $5.5m and $1.2m in Germany for $2.9m.
Horror hit Don't Breathe scared up $3.4m from its 38 markets for $44.3m ahead of its final key releases in France and South Korea this week. Taiwan opened with a strong $650k from 65 screens to chart second in the market.
The Duelist, a co-production from Sony Pictures International Productions, charted top in Russia with $2.5m from 1,952 screens. Including Ukraine it stands at $2.51m.
WARNER BROS PICTURES INTERNATIONAL
UPDATED: Landing in Spain at number two on $1.5m, Storks added an estimated $14.6m from its 47 markets for an early $39.1m.
The animation posted a $1.8m second weekend in China for $8.1m to date, while Mexico generated $1.6m for $4.8m and Australia $1.4m for $3.6m.
The family film opens in France on October 12 and the UK on October 14.
Sully grossed $6.6m from its 46 markets for $46.5m so far, debuting at number four in South Korea with a preview-boosted $2.2m from 565 screens, marking Clint Eastwood's best debut in the market.
Japan fell only 18% with a $1.9m second weekend for $6.5m.
Riding into Germany with $1m from 240 screens, War Dogs collected $2.7m from its 41 territories for $37.7m.
WALT DISNEY STUDIOS MOTION PICTURES INTERNATIONAL
UPDATED: Finding Dory is now the fifth highest grossing animation of all time worldwide with $986.3m.
Overseas, Pixar's latest swum to $14.6m from its 17 territories for $501.9m after opening in its final international markets.
It topped the chart in Germany with the biggest opening of 2016 at $8.8m, and retained top spot in Italy for $15m to date.
Pete's Dragon has grossed $53m to date overseas and $127m worldwide.
SOUTH KOREA
Crime drama Asura: The City Of Madness posted an estimated $9.3m debut in South Korea, according to ComScore.
The Age Of Shadows enjoyed a $1.6m fourth weekend for $53.8m to date.
TF1
Radin! enjoyed an estimated $6.45m debut in France, according to ComScore.
STX ENTERTAINMENT
UPDATED: Arriving in two new markets, Bad Moms partied to a further $3.6m from its 60 markets for $58.7m to date. In Germany the comedy added $5.2m after two weekends in play, and stands at $10.5m in the UK.
PARAMOUNT PICTURES INTERNATIONAL
Opening in Italy with $578k from 340 sites, Paramount-MGM's Ben-Hur rode to an extra $1.5m for $62.9m ahead of its China release on October 10.