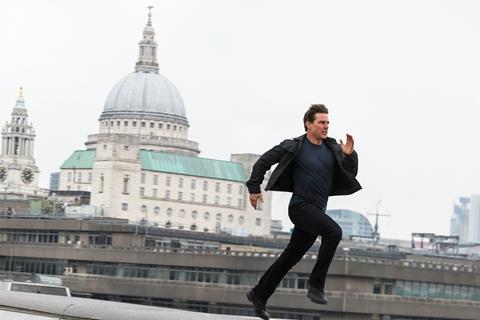 Mission: Impossible – Fallout launches into the global marketplace this weekend, adding a sixth installment to an action franchise that has come to rely increasingly on the appetite of international audiences for star Tom Cruise, daredevil stunts and travel brochure locations.
The Paramount Pictures and Skydance presentation opens in 36 international markets - including the UK, Russia, Spain, Korea, all of Latin America and most of Asia - over the same weekend it launches in North America, where box office predictions range from around $50m to a franchise-record $60m or higher.
The previous Mission: Impossible entry, 2015's Rogue Nation, took $487.7m internationally, representing 71% of its worldwide tally of $682.7m (the second best for the franchise, after the $694.7m earned by 2011's Ghost Protocol).
Fallout will move into another 20 international markets next week and through August, with opening dates for Japan and China – where Rogue Nation took an impressive $135.7m – yet to be determined.
The sixth outing cost $178m to make and has Rogue Nation's Christopher McQuarrie returning as writer-director and Henry Cavill, Ving Rhames, Simon Pegg and Rebecca Ferguson making up Cruise's supporting cast. The action was shot in France, England, New Zealand, Norway and the United Arab Emirates.
Other big international openings this weekend include the launch of Hotel Transylvania 3: Summer Vacation in France on Wednesday (July 25) and in the UK – where the Hotel Transylvania 2 took $29.8m - on Friday (July 27). The Sony Pictures Releasing International animated family comedy has so far amassed $127.1m outside North America.
Mamma Mia! Here We Go Again, which made its international debut last weekend through Universal Pictures International (UPI), has now reached $65.8m internationally. It opened in France, where the original Abba-inspired musical earned $13m, on Wednesday.
Skyscraper, which dominated the international marketplace last weekend thanks to its big opening in China (where Legendary is distributing), has now climbed to $99.2m in UPI territories.
UPI's Jurassic World: Fallen Kingdom has hit $823.9m internationally and The First Purge $40.7m. The distributor's Breaking In opened in Italy on Thursday.
Incredibles 2, from Walt Disney Studios Motion Pictures International, now stands at $383.1m and Marvel Studios' Ant-Man And The Wasp at $188.9m.
Warner Bros Pictures International opened Ocean's 8, whose international total is now $129.5m, in Italy on Thursday and Tag, with an international total of $17.9m, in Germany on the same day.
Fox International reported international totals of $416.1m for Deadpool 2, $261.2m for The Greatest Showman, $31.8m for Isle Of Dogs and $25.1m for Love, Simon. Fox opened Mas Sabe El Diablo Por Viejo in Mexico on Thursday.
Lionsgate International's Hotel Artemis opened in Germany on Thursday, with $2.6m grossed from international markets so far. The company's American Assassin has reached $31m outside North America, 12 Strong is at $21.4m and Sicario: Day Of The Soldado has notched $20.8m.