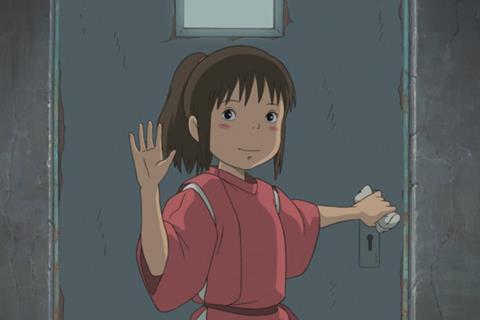 Japanese anime master Hayao Miyazaki's 2001 classic Spirited Away topped the Chinese box office over its opening three-day weekend, grossing more than twice the opening of Disney/Pixar's Toy Story 4.
Spirited Away grossed $27.9m in its first three days (June 21-23), according to EntGroup figures, with China Film Group overseeing the Chinese release. In comparison, Toy Story 4 came in second over the weekend with a gross of $13.4m during the same three-day period.
Both films are tracking strongly on user review platforms, with Spirited Away scoring a 9.4 rating on Maoyan and 9.3 on Douban, while Toy Story 4 has a rating of 9.2 on Maoyan and 8.9 on Douban. However, Chinese exhibitors have given more than 30% of screening space to Spirited Away, with Toy Story 4 receiving 16.3% of screenings. Some industry observers interpret this as a reaction against US films as the US-China trade war escalates.
However, there are no surprises in the strong results for Spirited Away, as the works of Miyazaki are held in high regard by Chinese audiences, who would have watched pirated versions at the time of their release, but have never had a chance to see them in cinemas.
Produced by Miyazaki's Studio Ghibli, Spirited Away grossed $230m in Japan when it was first released over summer 2001, followed by $10m at the North American box office in 2002. It didn't receive a theatrical release in China, due to political tensions between the Chinese and Japanese governments, and the fact that the Chinese market was much smaller in 2001.
However, due to warming relations between Tokyo and Beijing, several Japanese films are now released in China each year, among which the anime titles have performed particularly strongly. Makoto Shinkai's Your Name, produced by Toho, grossed $83.8m when it was released in China in December 2016. In addition to pirated versions of classic titles, Chinese audiences can also legally access Japanese animated films and TV series on streaming sites such as iQiyi and Bilibili.
Encouraged by the popularity of Japanese anime, Studio Ghibli decided to release some of its classics in Chinese theatres, starting with My Neighbor Totoro (1993), which grossed $25.8m in China in December 2018.
Spirited Away also ranked as the top film at China's weekly box office (June 17-23), according to EntGroup figures, with Toy Story 4 ranking at number three for the week. Coming in second was Men In Black International, which grossed $14.8m over the week for a cumulative total of $40.4m after 10 days.
Chinese romantic drama My Best Summer came in fourth over the week, with $8.9m for a cume of $53.4m after 18 days. Godzilla: King Of The Monsters took fifth position in the weekly chart with $7.3m, for a cume of $129.4m after 24 days.