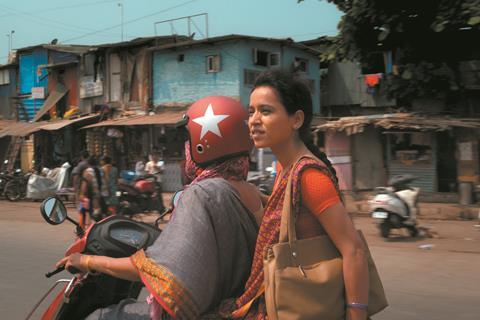 Paris-based mk2 films has boarded world sales on Indian director Rohena Gera's star-crossed romance Sir, exploring love across the classes in Mumbai, ahead of the European Film Market this week.
The picture, which was first announced at Goa's Film Bazaar in 2016, revolves around the impossible relationship between a middle-class man and his maid. It is currently in post-production.
"Sir is a love story that attempts to break through the class barriers in India, but it's definitely not a straightforward Cinderella story, the ending is quite the opposite to what we might suspect as is the discovery that even the most privileged individuals are victims of the class divide," said mk2 films managing director Juliette Schrameck.
Schrameck notes that it joins a number of other new titles either by female directors or looking at the status of women in contemporary society on the mk2 films slate.
Female focus
These include the freshly acquired documentary Speak Up by French-African activist filmmaker Amandine Gay, exploring what it means to be a woman of African descent living in France today.
Previously announced female-focused titles include Caroline Poggi and Jonathan Vinel's Jessica Forever, about the female leader of a group of lost boys with a violent past; Elsa Amiel's Pearl about a female bodybuilder dealing with complex personal issues on the eve of a big competition and Danielle Lessovitz's transgender drama Port Authority.
Topping the list is Agnès Varda's untitled documentary project shedding light on her experience as a director as she travels from her home in Paris to Los Angeles and Beijing.
"A number of our new films are linked by an awareness of the status of women in today's society, in Europe but also in India, the US and Africa, or a creative or different vision of womanhood our sales team is almost exclusively female and it may have had an unconscious effect on the cinema we are fighting for," says Schrameck.
She hastens to add: "This is of course not to the exclusion of male directors who are still very much a part of mk2 films' slate, as we continue to follow our Cannes hopeful's Jia Zhangke's Ash Is Purest White, Pawel Pawlikowski's Cold War and Stéphane Brizé's At War.
Other new additions ahead of the EFM to the mk2 films slate include Romanian director Corneliu Porumboiu's documentary Infinite Football, which premieres in the Forum, and drama Asako I & II by Japanese director Ryusuke Hamaguchi, whose Happy Hour won a special mention in competition in Locarno in 2015.
Adapted from Tomoka Shibasaki's 2010 novel Netemosametemo, the buzzed about production stars Erika Karata as a young woman who falls for two physically identical men with completely different personalities, both played by Masahiro Higashide.
Other Berlinale titles include Eric Khoo's Ramen Shop which premieres in the Culinary Cinema section and Serge Bozon's Mrs. Hyde starring Isabelle Huppert, which plays in the Berlin Critics' Week.