DEC 7 UPDATE: Lionsgate's adaptation holds onto top spot worldwide with a $30m weekend; Sony's Spectre hits $600m internationally after six weeks in play.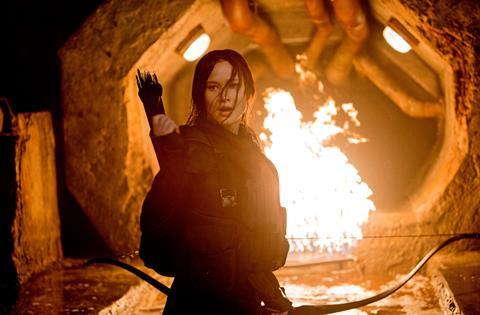 LIONSGATE INTERNATIONAL
UPDATED: The Hunger Games: Mockingjay - Part 2 has reached $522.4m at the worldwide box office in its third weekend.
The climactic instalment of the young adult franchise grossed a confirmed $30m from its 92 international markets to lift its overseas tally to $295m after 20 days in play. It has now passed the $286m overseas lifetime tally of The Hunger Games.
Its leading market remains the UK after a $3.4m weekend saw it retain top spot and took its local tally to $35.5m, but its strongest weekend performance came in Germany with $4.6m for $32.1m to date.
Action remake Point Break debuted in six Asian markets to the tune of $14.1m, including a number two bow in China with $12.1m.
SONY PICTURES RELEASING INTERNATIONAL
UPDATED: Opening in its final market of Japan with $6.9m (including previews), Sony, MGM and Eon Productions' Spectre crossed $600m internationally after six weeks of release as a $21.4m weekend in its 94 markets lifted it to approximately $607.5m including MGM markets.
Germany ($3m for $60.9m), France ($2.4m for $32.m), the UK ($1.9m for $139.7m) and Australia ($1.5m for $20.9m) continued to hold well, while the latest James Bond mission retained the top spot in the Netherlands for the sixth straight week.
Animated sequel Hotel Transylvania 2 added $2.6m from its 69 markets for a running total overseas of $274.2m. Ahead of the school holidays next weekend, the film stands at $3.2m in Australia after two weeks in play.
It opens in South Korea on December 24.
Goosebumps opened in an additional ten markets as it grossed $1.7m, including a $1.3m Russian debut, for an early $36.6m. The next major release for the adaptation comes in South Korea on January 7.
WALT DISNEY STUDIOS MOTION PICTURES INTERNATIONAL
Pixar's The Good Dinosaur crossed the $100m mark globally this weekend, taking $19.4m from 45 territories for $55.4m to date in its staggered international roll-out.
With no new significant markets opened, Latin America had a strong overall hold for the region as it dropped just 19% overall. The animation dropped 25% in both France ($6m to date) and Germany ($2.5m to date), and held onto the number two spot in the UK, significantly ahead of all the new releases.
In India, The Good Dinosaur posted the third biggest Disney or Pixar animated opening of all time, behind only Cars 2 and Inside Out.
Next weekend the family animation lands in Lebanon and Venezuela.
WARNER BROS PICTURES INTERNATIONAL
UPDATED: In The Heart Of The Sea sailed to a $18.5m international debut from its 38 markets with 3,200 admissions on more than 9,500 screens.
The pick of the openings came in South Korea with an estimated $2.6m from its 550 screens to rank second behind local drama Inside Men. Russia provided a chart-topping $2m, Mexico opened second behind The Good Dinosaur with $1.9m from 1,650, Italy took $1.7m from 489 for number one and Brazil ranked second behind Mockingjay with $1.3m from 583.
Ron Howard's adaptation opens in France on December 9, the UK on December 26 and Japan on January 16.
Currently sparring in nine markets, Creed grossed $1.5m for an early $5.3m as Australia held well with an $902,000 second weekend for a local tally of $2.6m. The next key market to open is Japan on December 23.
Black Mass added $1.4m for $30.2m.
FOX INTERNATIONAL
UPDATED:The Martian retained the top spot in China for the second straight week as it dug up a further $13m for $73.7m after two sessions. Overall the adventure film grossed $13.7m from its 33 markets for $352.4m. Ridley Scott's sci-fi adaptation is now up to $21.4m in France, with a Japan release to come on February 5.
Opening in Spain ($1.9m) and France ($1.6m), DreamWorks' Bridge Of Spies uncovered a further $9.9m from its 55 markets for $41.7m to date. Steven Spielberg's latest fell apporximately 26% in the UK for a second weekend of $1.6m for a local tally of $5.9m. It opens in Italy on December 16 and in Japan on January 8.
Victor Frankenstein had a soft $651,000 opening from 445 screens in the UK on its way to a $4.9m overall weekend in its 39 markets for $19.1m.
Thanks to a solid $1.5m bow in Japan for second in the market, The Peanuts Movie grossed $1.9m from its 14 markets for an early $12.9m. It has debuts in more than 58 markets to come.
ASIA UPDATE
Fall In Love Like A Star opened to $11m in China and has grossed $15m overall, Inside Men added $6.6m in South Korea for $35m to date and Our Times stands at $71m.
UNIVERSAL PICTURES INTERNATIONAL
UPDATED: Babysitting 2, the sequel to the hit French comedy, scored an excellent estimated $4.9m chart-topping debut in France from its 545 dates. It delivered an opening 85% bigger than Babysitting and more than double the No. 2 film in the market.
Another local comedy doing great business is Ocho Apellidos Catalanes (Spanish Affairs 2) which led the Spanish market for a third straight week with $4.1m. Its $23.5m running total makes it the fourth highest-grossing film of the year after just 17 days in play.
Legendary and Universal's festive horror Krampus opened day-and-date with North America in 24 markets for an overseas bow of $3.5m. It topped the chart in Austria (the home of the Krampus legend) with $517,000, and its best gross came in Germany with $7,000 from 303 sites. The film took $620,000 (£410,000) in the UK from 323 dates.
International roll-out continues throughout December with 13 new territories, including Mexico, the Netherlands and New Zealand opening this weekend.
M. Night Shyamalan's The Visit from Blumhouse is up to $31.9m and stands at $97m worldwide, while The Hunger Games: Mockingjay - Part 2 held at number four in Italy, where Universal is releasing, with $540,000 for $8m.
Australian dark comedy The Dressmaker is up to $12.7m in its two Universal territories of Australia and New Zealand.
Steve Jobs and By The Sea have grossed $6.6m and $1.4m, respectively. By the Sea opens in 11 territories next weekend, including France, Germany and the UK.