Norwegian director takes the reins on A Conspiracy of Faith.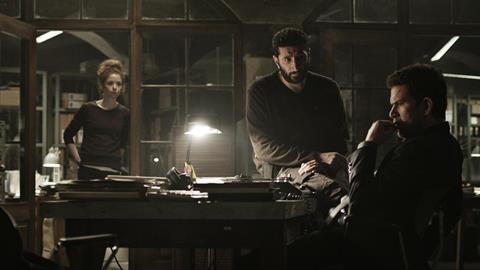 Veteran director Hans Petter Moland is take over Denmark's third Department Q thriller, A Conspiracy of Faith (Flaskepost fra P), from Danish director Nikolaj Arcel.
Arcel, best known for directing A Royal Affair, wrote three scripts based on Jussi Adler Olsen's Department Q novels.
The first two - The Keeper of Lost Causes (Kvinden i buret) and The Absent One (Fasandræberne) - were directed by Mikkel Nørgaard and proved major hits in Denmark in 2013 and 2014.
But although Arcel was due to step in to make the third part in Zentropa Entertainment's franchise, Moland has taken his plance. Arcel has recently been working on numerous projects in the US.
Danish producer and Zentropa ceo Peter Aalbæk Jensen told ScreenDaily: "He [Arcel] will still be busy in the States, when we start filming in May."
Speaking of Moland, Jensen added: "I had seen his latest feature, In Order of Disappearance (Kraftidioten), and was very impressed by his direction, so we decided to sign him not only for A Conspiracy of Faith, but also for The Long Ships (Röde Orm), the Viking epic we will stage in 2016."
Moland is known for his films starring Stellan Skarsgard such as Aberdeen (2000), A Somewhat Gentle Man (2010) and most recently In Order Of Disappearance (2014).
The Danish Film Institute has chipped in $1.1 million and Eurimages $425,000 for A Conspiracy of Faith.
The thriller will star Danish actor Nikolaj Lie Kaas return as Carl Mørck, an investigator at Copenhagen Police's Department Q for "cases of special focus".
The cast also includes Fares Fares, Johanne Louise Schmidt and Søren Pilmark.
In A Conspiracy of Faith, Mørck receives a message in a bottle, long forgotten at a police station in the far corner of Scotland: the first word 'Help' is in Danish and written in blood.
It came from two young brothers, hold prisoners in a boathouse by the sea. Who are they, why were they never reported missing, and could they still be alive?
Denmark's TrustNordisk has already sold the first three films in the Department Q series to Sundance Selects for US distribution.
The Keeper of Lost Causes will launch the new digital distribution operation of France's Wild Bunch on March 27, covering 80% of the country's households.
From Arcel's script, A Conspiracy of Faith will be produced by Louise Vesth, Jonas Bagger and Peter Aalbæk Jensen, for Zentropa Entertainments.
Covering Scandinavia, Nordisk Film Distribution has scheduled the domestic release for late 2015.
TrustNordisk handles international sales.
As previously announced, Moland's next for Zentropa is The Long Ships, adapted from Swedish author Frans G Bengtsson's 1943-1945 novels about the Viking called Red, named after his hair and temper.