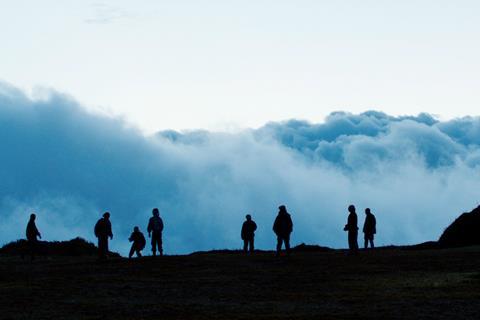 The Méliès International Festivals Federation (formerly known as European Fantastic Film Festivals Federation) and Blood Window have announced the contenders for best Latin American feature film of the year at the upcoming Ventana Sur sidebar in Buenos Aires.
Vying for the prize will be Alejandro Landes' Colombian international feature film Oscar contender Monos, as well as Kleber Mendonça Filho's highly regarded Brazilian film and Cannes selection Bacurau. Ten features in total are in consideration for the honour, now in its third year.
"The Méliès International Festivals Federation is excited to continue its collaboration with Blood Window for the third year running," said Chris Oosterom, chairman of Méliès International Festivals Federation.
"Blood Window plays an important role in the development and dissemination of Latin American fantastic fiction. The Latin Award of the MIFF highlights and awards the wealth in quality and variety of fantastic films and their increasing profile worldwide."
Jury members are: Anaïs Emery, Neuchâtel International Fantastic Film Festival director; Maritte Sørensen, Lund International Fantastic Film Festival director; and Pablo Guisa, Morbido Film Festival director.
Ventana Sur takes place from December 2-6. The contenders appear below. All synopses are adapted from originals provided by the organisers:
Abrakadabra (Argentina)
Dirs: Luciano and Nicolas Onetti
A magician, whose magician father died 35 years earlier attempting a dangerous trick, is implicated in a series of murders.
You Shall Not Sleep (No Dormirás, Argentina-Uruguay-Spain)
Dir: Gustavo Hernández
Members of a theatre company experimenting with insomnia in an abandoned psychiatric hospital encounter powerful forces.
Bacurau (Brazil-France)
Dir: Kleber Mendonça Filho, Juliano Dornelles
Allegorical tale about a small town in northeastern Brazil that vanishes from maps after the matriarch dies.
Brief Story From The Green Planet (Breve Historia Del Planeta Verde, Argentina)
Dir: Santiago Loza
A trans girl, a dancer, and a heartbroken waitress attempt to return an alien companion of the trans girl's late grandmother to its rightful place.
Luz (Colombia)
Dir: Juan Diego Escobar Alzate
The leader of an isolated cult finds himself under attack from his followers, including his three daughters, after bringing a false messiah into the community.
Impossible Crimes (Crimenes Imposibles, Argentina)
Dir: Hernán Findling
A seasoned detective with a tragic past is assigned to investigate series of deaths when a young nun tells him she is possessed by an evil force behind for the killings.
Monos (Colombia)
Dir: Alejandro Landes
On a faraway Colombian mountaintop, a group of child soldiers on the run from government forces try to keep their American hostage alive.
I Am Toxic (Soy Tóxico, Argentina)
Dir: Pablo Parés
A man wakes up in a world destroyed by biological warfare with no memory of his previous life. He escapes from his captors with a young woman who turns out to be his daughter.
The Father's Shadow (A Sombra Do Pai, Brazil)
Dir: Gabriela Amaral Almeida
A nine-year-old girl attempts to bring her mother back from the dead so she can reconnect with her estranged father.
The Unseen (Los Ultimos, Argentina-Chile)
Dir: Nicolás Puenzo
A young, pregnant indigenous woman and her Creole companion escape from a refugee camp and encounter a veteran war photographer who tries to save them from guerrillas in the area.