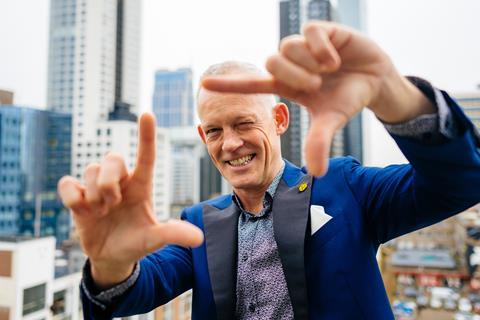 Bero Beyer, the outgoing artistic director of International Film Festival Rotterdam (IFFR), says new talent should not try to compete with Disney if they are to be successful in the film industry. "You're not going to beat Disney at their own game. So don't even try."
To foster this mindset, the theme of the final year of his five-year stint at the helm of the Rotterdam Film Festival was 'New Talent.' In March, Beyer will take over as CEO of the Netherlands Film Fund.
"What I hope to be able to translate to the Dutch infrastructure of film financing, in which the film fund is one of the key players, is the attitude that we must always push stories one step further," Beyer told Screen."We watch so many films when selecting for Rotterdam, and often one thinks this is a nice effort, but they don't get into the festival because the director doesn't really push the story."
He would like to see more, "Stubbornness, outspokenness and ambition."
It is a good time for Bero to step down as he believes the 2020 edition is his best yet. It's the culmination of five years of tinkering and changing, from his decision to reduce the official competition line-up to first eight and now 10 films, the reimaging of CineMart to give filmmakers more time with industry figures, and placing more emphasis on contextualising film. "So people don't just go to see a film, but they also go to the masterclasses and talks. The festival is huge, with around 573 features and shorts, yet there must be a level of intimacy and context."
He also says it was necessary to double down on what Rotterdam is good at. "We are an arty film festival. Cinema is an art first and a product later. Cinema is broad. Let's talk about cinema first but if it turns into a circus, we've done the wrong job. If you take risks and these films are being seen by large audiences in the age of Marvel, its worth having a huge party for."
Buzz films
The response from critics has been positive, with plenty finding nuggets in the festival coal face. Indian world premiere Nasir by Arun Karthick, competing in the Tiger Competition, was a particular favourite among critics.
Adham Youssef of Egypt's The Daily News said: "Arun Karthick has made a simple film that manages to avoid all the cliches of Hindus against Muslims when talking about nationalism."
Screen critic Wendy Ide particularly liked Kala Azar by Greek director Janis Rafa about pet crematorium workers, and The Cloud In Her Room by Chinese filmmaker Zheng Lu Xinyuan.
Beyond the Tiger competition, a title making the Cairo-based critic giddy was Serb Marko Djordjevic's My Morning Laughter about a late twenty-something still living in his mother's shadow.
Carlota Mosegui, in town to watch films for the Margenes Film Festival of Spanish, Portuguese and Latin American films, was also a big fan of Nasir and the 200 -minute Spanish Tiger competition title Luis López Carrasco's The Year of Discovery. In the film, the director contrasts the international image that Spain was projecting at the Barcelona Olympics and the Expo in Seville, with the razing of the regional parliament in Cartagena during furious protests against the threatened closure of various local industries.
There were also positive reviews for Venezuelan title La Fortaleza and the Asian entries, Chinese filmmaker Zheng Lu Xingyuan's The Cloud in Her Room, and South Korean Kim Yoonhoon's Beasts Clawing at Straws
The CineMart, now in its 37th year, has undergone some significant changes during Beyer's tenure. "When it started it was the first co-production market to have that idea of, hey, you should actually bring these people together. It was copied all over the world," says Beyer. "So why do something else completely?"
"We made three changes. To be more focussed on the projects that are here and have long relationships with the projects, to keep following up throughout the year.
"Second, was to make sure that there was more overlap and synching with the film festival and other elements going on, like the Hubert Bals Fund, which used to be a separate organisation.
"The third is the development of the reality check programme, which is a different set up to Sundance and Berlin, where you do your half-hour sales meeting, which is fine. Still, here there is a little more time, so we can have two-hour workshops bringing people and addressing issues on a more philosophical level."
Tassilo Hallbauer, Beta Cinema's vice president of sales and acquisitions, says he comes to Rotterdam to attend CineMart, "to discover young talent and potential major festival contenders. Usually, it's more arthouse than crossover.
"This year I thought the [CineMart] selection was a bit broader, from heavy arthouse to more accessible. Highlights for me were two films from South America – Natalia Garagiola's Infanta, and Karine Teles' Princess – and the Turkish-German co-production Electric Sheep by Uyku Kampi.
"The Young Arsonists by Canadian Sheila Pye, I also liked, but didn't have time to meet with the team."
Beyer is looking forward to handing over the reins to Vanja Kaludjercic. "Vanya has tremendous taste and she knows the industry. She's worked with us before and knows the festival. The fact that she's a woman under 40 as well. That should be the norm."