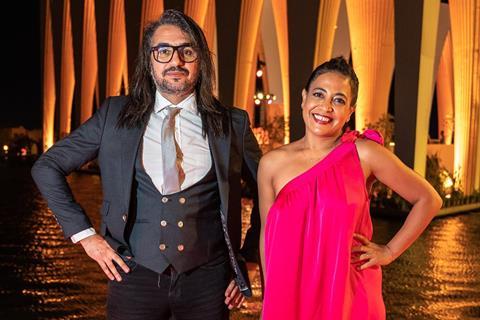 Moroccan director, artist and writer Hicham Lasri has revealed he is planning to move in a more mainstream direction with his upcoming feature project Happy Lovers, which was presented at the El Gouna Film Festival's CineGouna project incubator this week.
Set in France in the early 1990s, the black comedy revolves around a penniless novelist who embarks on a cynical, madcap plan to assassinate a famous author with a fatwa so he can use the reward money to give his wife and soon-to-born first-child a better life. He soon finds himself out of his depth as his preparations go farcically and hellishly wrong.
"The story needs an approach that is more audience-friendly," Lasri told Screen on the fringes of the CineGouna meeting. "Instead of making 'punk cinema', I'll be simply making cinema. I fell in love with the story and it's the story that is defining my approach. I'm totally for extreme cinema but this is more of a human story and needs to be done in a different way. "
Casablanca-based multi-hyphenate artist Lasri is best known on the international film festival circuit for his avant-garde and experimental works like The End (2011), Starve Your Dog (2015) and Headbang Lullaby (2017).
Lasri was at El Gouna with long-time Moroccan producer Lamia Chraibi at La Prod, who has worked with the director since his debut film The End. Recent credits by other directors include Ismael Ferroukhi's Mica and Mohamed El Aboudi's School Of Hope.
"We're presenting a new departure for Hicham. He writes prolifically and quickly - books, graphic novels, screenplays - but he's never had the patience to properly develop the script," explained Chraibi.
"But that's what we've tried to do here. We're tried to arrive at the point for once where we have a really well-constructed screenplay on which we've worked a lot, within which Hicham can still leave his stamp as a director and have fun," she added.
Lasri began writing the first draft of the screenplay in early 2015, shortly around the time of the extremist attack on the offices of satirical magazine Charlie Hebdo in January 2015, which have been followed by a wave of sporadic terror attacks in France as well as wider Europe and the Middle East and Africa.
"We've been working on this story for years and each year it's become a bit more relevant, with the rise of fundamentalism and fatwas. It's been astonishing to see how the story has become accurate. It's sad but it's true," said Lasri.
Chraibi said the film would be a black comedy mixing elements of Gaspar Noé's Irreversible and Joel and Ethan Coen's Fargo.
"There's this descent into hell as the main character keeps making bad choices but at the same time there's endearing side to him, which makes him a sympathetic character," she said.
The film was previously presented at Marrakech's Atlas Workshops in November 2020. Since then, the project has secured the backing of the Moroccan Cinema Centre and is currently looking for partners in Europe.
Lasri also presented a second project in CineGouna's work-in-progress showcase, the guerilla-style shot, low budget film Haysh Maysh: False Drama about a woman known for uncontrollable bursts of anger who goes through a surreal day of self-reflection as she approaches her 30th birthday.