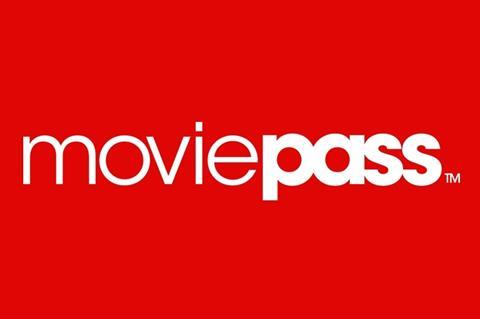 UPDATED: Subscription service MoviePass launched its Peak Pricing initiative on July 5, sparking a Twitter backlash over the change to member plans and an unspecified "small additional fee".
On Thursday afternoon MoviePass issued Screen with the following statement: "Today, we began rolling out Peak Pricing in select markets with the intention of keeping our subscription service attractive while offsetting the high costs associated with heavy demand of certain films or showtimes. We are still in a testing period with this feature, and to start, members can expect a surcharge fee of anywhere between $2 and $6, depending on demand of the showtime in question.

"Peak Pricing will roll out to all subscribers over the next few weeks; however, members on an annual or quarterly plan won't experience the Peak Pricing feature until their membership renewal date. In the coming weeks, we'll also be introducing Peak Pass, which allows members to waive one peak fee per month."
EARLIER REPORT: The dynamic pricing system will roll out into all theatres across the US over the coming weeks and imposes surcharges based on high demand titles and screening times.
Earlier this week parent company Helios And Matheson Analytics told regulators it wants to raise $1.2bn as scrutiny continues to grow over how the service can remain sustainable, however MoviePass continued to sound a confident note.
Addressing the question of why members would want to use the service if it would now cost more than the subscription fee, the MoviePass website had this to day: "Even with the peak pricing fee, you will be paying less for the ticket than you would if you bought it at retail price, and in the coming weeks, every subscriber will be able to waive one peak fee per month. That said, if you would like to avoid paying the fee, you can choose an alternate title or showtime!"
The service said that Peak Pricing did not foreshadow the end of the unlimited plan – whereby subscribers can watch one film a day for a $9.95 monthly fee – and was designed to ensure the plan remains. In mid-June MoviePass said membership had crossed three million and it has targetted five million by year's end.
Inevitably the Twittersphere was abundant with opinions. The official account of box office site Exhibitor Relations noted, "MoviePass Peak Pricing Cost: "will be a small additional fee that is dynamic based on a given film or showtime's popularity." i.e. We'll charge what we want, when we want."
Another user, @tjain19, cited the rival AMC Stubs A-List subscription plan in a tweet. "The new Peak Pricing "evolution" (sic) is a major buzzkill @MoviePass -I prepaid for a year and still I'm not be insulated from it, forget rewarded! With AMC entering the movie sub game with A-list, this seems like a poor decision from a retention pov - if at all that matters 2u."
High-demand shows carrying a "small additional fee" will be indicated on the MoviePass app by an icon depicting a thunderbolt inside a red circle. Where a showtime is growing in popularity and may be about to enter Peak Pricing, there will be a thunderbolt within a gray circle.
Peak Pricing will impact month-to-month subscribers and new annual subscribers, however it will not affect existing annual members who signed up before Peak Pricing until their membership come up for renewal.
MoviePass has faced closed scrutiny over the sustainability of its business model. The service pays theatre owners for tickets and parent company Helios And Matheson, whose stock has taken a battering in recent months, has said in regulatory filings with the Securities And Exchange Commission (SEC) that its cash deficit in May, when the company gained 545,000 new subscribers, was $40m. It expects its June cash deficit to reach "at least" $45m.