Universal's big screen outing for the popular TV sitcom scores excellent $7.3m (£4.3m) debut to dethrone Fox's The Fault in Our Stars.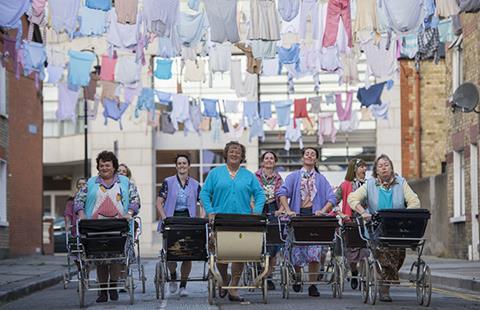 Joining the likes of The Inbetweeners on the list of successful TV-to-film outings, Mrs. Brown's Boys D'Movie has debuted top of the UK box office.
Universal's big screen outing for the popular TV sitcom scored an excellent $7.3m (£4.3m) from its 522 sites, marking a superb $14,043 (£8,240) site average.
Understandably, the film was strong in Ireland where it recorded the biggest ever opening weekend for a local film.
In terms of big screen TV outings, it ranks above Alan Partridge: Alpha Papa's $3.7m (£2.2m) debut from 441 sites and has already outgrossed the entire UK run of Keith Lemon: The Film ($4.9m/£2.9m).
Its holdover next weekend will give an indication of whether it can go on a sustained run like The Inbetweeners Movie, which did almost 3.5 times as much as its $22.5m (£13.2m) debut to end up with $76.7m (£45.03m) in the UK.
FOX
Now on full release in Scotland and Ireland with previews on Saturday and Sunday across the rest of the UK, How to Train Your Dragon 2 is off to a flying start at the UK box office.
Fox's animated sequel grossed $4m (£2.4m) over the weekend and has amassed $4.9m (£2.9m) to date, including its previews on Father's Day [June 15].
Comparisons are tricky given the fragmented nature of the release, but How to Train Your Dragon posted a lifetime total of $29.6m (£17.4m) and the sequel looks well-set to surpass that.
It's worth noting that How to Train Your Dragon 2's weekend may be significantly lower than $4m (£2.4m) in the official chart, where it might be that only the Scotland and Ireland grosses are counted with its England and Wales previews added to its nationwide release on July 11.
Also for Fox, last week's champion The Fault in Our Stars fell just 29% (excluding previews) to add $2.9m (£1.7m) for a healthy $11.4m (£6.7m) after two weeks in play.
X-Men: Days of Future Past fell a remarkable 3% in its sixth weekend on its way to $542,000 (£318,277) for $45.1m (£26.5m), while Belle is up to $2.4m (£1.4m) following a non-final $168,000 (£98,528) third weekend.
SONY
With a drop of just 22% in its fourth weekend, 22 Jump Street has crossed the £15m mark at the UK box office.
Sony's comedy sequel shot to an additional $2m (£1.2m) to climb to $25.7m (£15.1m) in its quest to become the year's best comedy performer, currently Bad Neighbours' $27.2m (£16m) tally.
DISNEY
Despite the arrival of family competition with Dragon, Maleficent fell a minimal 16% in its fifth weekend on its way to $1.4m (£817,000).
Disney's live action reimagining of Sleeping Beauty has now conjured up $28.2m (£16.6m), and still has a great chance of hitting £20m.
LIONSGATE
Chef cooked up a non-final $1m (£605,976) UK debut, including $244,000 (£142,987) in previews, from its 372 sites through Lionsgate.
That's one of Jon Favreau's lowest openings as a director, but it's also his first film not aimed at a family audience since his debut Made.
VERTIGO FILMS
Singing into 360 sites, Vertigo Films' Walking on Sunshine posted a $688,000 (£403,153) UK bow. By comparison, Sunshine on Leith launched last year with $1.3m (£770,067) from slightly more sites at 400.
WARNER BROS
Crossing £7m in its fifth weekend was Warner Bros' Edge of Tomorrow as it fought its way to a further $537,000 (£315,318) to lift its UK running total to $12.3m (£7.2m).
Also for Warner Bros, Jersey Boys fell over 50% in its second weekend to add $331,000 (£194,460) for an off-key $1.76m (£1.03m) to date.
Oculus and Godzilla have grossed $1.8m (£1.1m) and $29.2m (£17.2m), respectively.
ICON FILM DISTRIBUTION
Cold in July, the first release of scale since Icon's re-launch, posted a sturdy non-final UK bow of $265,000 (£155,836) from its 105 sites.
That already marks director Jim Mickle's best-ever performance at the UK box office, topping Stake Land's $249,000 (£146,000) result.
EONE
Suffering a hefty drop in its second weekend, eOne's 3 Days to Kill took $138,000 (£81,000) for $1.1m (£634,000) after ten days in play.
IMG
Spoof sequel A Haunted House 2 scared up a better-than-expected $83,000 (£48,596) on its UK bow from 14 sites through IMG.
While lower in gross than its predecessor's opening of $262,000 (£153,769) from 226 sites, the sequel's performance is stronger with a much better site average.
ENTERTAINMENT FILM DISTRIBUTORS
Seve teed off with an uninspiring $81,000 (£47,294) from its 168 screens through Entertainment Film Distributors.
DOGWOOF
Taking $9,600 (£5,619) from nine screens through Dogwoof over its official opening weekend, Mistaken for Strangers has now amassed $68,000 (£40,051) in the UK including its previews on June 14.
PECCADILLO PICTURES
Cannes 2013 award-winner The Golden Dream started its UK run with a solid $19,000 (£11,187) from its eight sites through Peccadillo Pictures.
ARROW FILMS
Now on release nationwide in ten sites, Arthur and Mike added $10,000 (£6,056) for $28,000 (£16,612) to date through Arrow Films.
CURZON FILM WORLD
Released in eight sites through Curzon Film World, Agnès Jaoui's Under the Rainbow grossed $7,000 (£4,100) on its UK debut. That's some way down on the openings of Jaoui's previous directorial outings, but it's worth noting that they all received slightly wider releases.
UPCOMING RELEASES
This week sees a saturation release for Warner Bros' Tammy, while StudioCanal's The 100-Year-Old Man Who Climbed Out the Window and Disappeared and Metrodome's The Anomaly both receive wide releases.
Artificial Eye's Cycling with Moliere and Metrodome's Goddess are among the films receiving a limited release, while Wildcard's Love Eternal is released in Ireland.