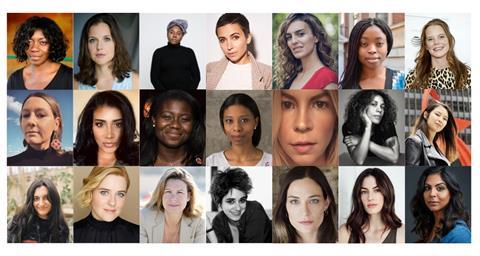 Paris-based talent platform Wscripted has unveiled its second Cannes Screenplay List showcasing a selection of scripts by female and non-binary writers.
This year's list, which has been created in partnership with streaming service Mubi, features 25-English-language and six French-language feature scripts available for option or financing, by women screenwriters from France, Nigeria North America and the UK.
The selected talents include US-Egyptian filmmaker Dina Amer, Nigerian screenwriter Onyinye Egenti and Chinese-US director Eris Qian.
Amer broke out internationally in 2021 her first feature You Resemble Me which was executive produced by Spike Lee. She makes the list with a new project entitled Cain And Abel, about two Muslim men born in the same Paris neighbourhood who find themselves on opposite sides of the 2015 Charlie Hebdo attack,
Berlinale Talents and BBC fellow Egenti, who is currently a shadow writer on Netflix's mythological series Kaos, has been selected with A Season in Talgarreg, a drama set against the backdrop of a Welsh farming community. Sundance Institute fellow Qian's screenplay Pulling Seedlings, revolves around a mother who turns to genetic technology in a bid to create the perfect daughter.
The French line-up includes the horror fantasy feature Sora Mea by Émilie Dubois & Myriam Dupuis, alumnae of the script lab of French film school La Fémis.
The selection was vetted by several industry partners and curated with an all-female reading committee. Wscripted also collaborated with Séquences7 - the french non-profit for emerging screenwriters - and their Co-President Isabelle Savary, former executive at France 3 Cinema, for selecting the inaugural list of French projects.
Wscripted was launched in 2021 by Ellie Jamen as an online marketplace aimed at female storytellers with decision-makers. The team also includes co-founder Marine Haziza, who oversees the technical development of the platform, and producer and former Sundance collaborator Rebecca Katz as head of talent development.
Beyond promoting the projects on its site and compiling the Cannes Screenplay List, Wscripting also runs monthly online pitching sessions and other networking events.
English-language selection:
600 Steps by Sylvia-Anne Parker (UK
A Relative Woman by Nadia Cavelle (UK)
A Season in Talgarreg by Onyinye Egenti (Nig-UK)
Amerиkana by Lidiya Korotko (US)
Cain and Abel by Dina Amer (US)
Cocoa Doll by Jumai Yusuf (Nig-US)
Excellent Fancy by Julie Sharbutt (US)
Fancy Dance by Erica Tremblay, Miciana Alise (US)
Forward by Mary Ann Anane (US)
In My Father's House by Abbesi Akhamie (Nig-US)
Invalid by Cheryl Meyer (Can)
Kerry's Brother Ben by Molly Kitson (UK)
No Barge by Celeste Parr (Can)
OddFX" by Catherine Craig (US)
Once upon a Time in Berlin by Katrin Magrowitz (UK)
Paradise by Raquel Cepeda (US)
Pulling Seedlings by Eris Qian (US)
Quran Camp by Samah Meghjee (US)
Republic of Winneconne by Lisa Franek (US)
Séance" by Vivian Kerr (US)
She's Not Gone" by Micky Levy (US)
Silent Spring" by Elise H. Greven (US)
The Unfinished Sonata" by Ariane Hahusseau (UK)
The Way Out" by Kathleen Munroe & Jessica Huras (Can)
We Go Together" by Farah Merani (Can)
The French-language selection:
Cavale by Hélène Merlin
Interlude Kabyle by Sophie Goudjil
L'Éclat de Grâce by Marguerite Didierjean
Perfect Body by Myriam Aziza & Emmanuelle Belohradsky
Sans Transition by Anastasia Feuillet
Sora Mea by Émilie Dubois, Myriam Dupuis