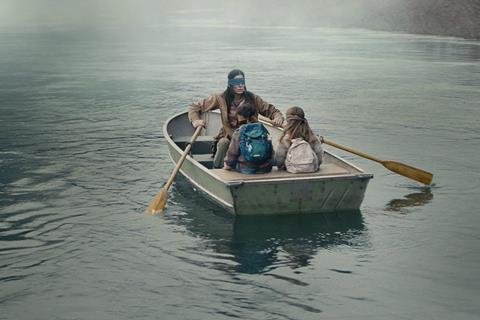 Netflix touted the success of its original productions - and revealed some rare viewing figures - as it announced that it added a bigger than expected 8.8m paid subscribers (1.5m in the US and 7.3m internationally) during the fourth quarter of 2018.
This brings global subscribers to 139.26m (80.77m international, 58.49m US), 25.9% up on the total at the end of 2017.
In its letter to shareholders, Netflix revealed (without independent verification) that Susanne Bier's original feature Bird Box will be seen in more than 80m households in the first four weeks of streaming.
In the earnings interview streamed on YouTube, chief content officer ted Sarandos said, "The level of investment that we're doing in our original film space definitely changes the economics in terms of licensing films for later windows versus producing films, which is a more front-loaded cash activity but has a much better payback for us. When you have something like Bird Box the ability to invest in the next one is all the greater."
Noting successful recent series, Netflix said Spanish original Elite will reach 20m households in its first four weeks and that British series Bodyguard (the BBC/Netflix co-pro made by ITV Studios indie World Productions), Italian original Baby and Turkish original The Protector were each seen in more than 10m homes in their first four weeks of streaming.
UK series Sex Education is "tracking to be a huge hit," said the company, with an estimated 40m households being expected to view the comedy-drama over its first four weeks.
Netflix claimed in its investor letter that in the US it currently accounts for 100m hours of TV content consumption a day, 10% of total consumption of about a billion hours daily.
Asked in the earnings interview to comment on upcoming competition from new streaming services set to be launched by Disney, WarnerMedia and others, Netflix CEO Reed Hastings said: "I like Disney. They have great content. We're excited for their launch and maybe they grow over a couple of years to 50m hours a day. But that's out of the billion. Any one provider entering only makes a difference on the margin."
Continued growth
Announcing its fourth quarter financial results, the streaming giant forecast that it will add another 8.9m paid subscribers in the first quarter of 2019, 7.3m of them internationally and 1.6m in the US.
Executives declined to predict the company's content spend for 2019 ("amortization of streaming content assets" was $7.53bn for 2018). But Sarandos said that where content spending was concerned there would be "more of the same, but on a continued larger scale."
Netflix reported revenue for 2018's final quarter of $4.187bn, 27.4% up on the fourth quarter of 2017 but slightly below forecasts. Operating income for the quarter was up 5.2% to $216m.
Full year revenue for 2018 was $15.794bn, up from $11.693bn for 2017. Full year operating income was up from $838.7m to $1.605bn.