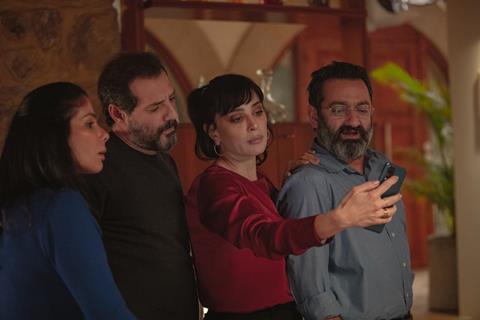 Netflix has acquired the Arabic-language remake of Italian comedy Perfect Strangers and announced a January 20, 2022 launch of what will be its first Arabic-language original feature.
The remake of Paolo Genovese's 2016 Italian hit, which grossed more than $20m at home and $31m internationally, marks Netflix's first Arabic language feature original.
It is produced by Dubai-based Front Row Entertainment, Beirut-based Empire International, Cairo-based Film Clinic and Yalla Yalla, a joint production venture between Front Row and Rocket Science.
It is about seven close friends who decide to play a game during a dinner party that involves them placing their cell phones on the table, and agreeing to openly share every call, text and voice message as it comes.
The A-list pan-Arab cast features award-winning Lebanese talents Nadine Labaki, George Khabbaz, Adel Karam, Diamand Bou Abboud and Fouad Yammine, Egyptian star Mona Zaki and Jordan's Eyad Nassar.
Lebanese filmmaker Wissam Smayra makes his directorial feature debut, having previously taken an executive producer credit on Capernaum and also written and directed a number of shorts.
Netflix said Perfect Strangers would be the first of many films produced by Front Row as part of a first-look deal. Similar upcoming productions on the Front Row slate include an Arabic language remake of Intouchables.