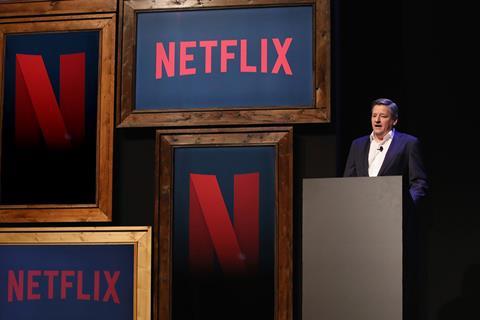 Netflix co-CEO Ted Sarandos publicly addressed the ongoing controversy around its release of French feature Cuties in a wide-ranging talk on Monday (October 12) for content market MIPCOM, which is running online from October 12-16.
"It's a film that I would argue is very misunderstood with some audiences, uniquely in the United States. I think the film itself speaks for itself. It's a very personal coming-of-age film," he said.
"The film obviously played very well at Sundance and in theatres throughout Europe without any of this controversy… And I think it's a little surprising that in 2020 in America, we're having a discussion about censoring storytelling."
French filmmaker Maïmouna Doucouré's tale explores the hyper-sexualisation of youngsters in contemporary society and centres on a group of high-spirited tweens in Paris.
Both Netflix and Doucouré have come under fire from conservative groups in the US who accuse the film of sexualising its young cast.
Last week, Sarandos and Netflix founder and co-CEO Reed Hastings were indicted by a Texas grand jury on charges of "disseminating lewd material". The company put out a statement firmly denying the charges, which are expected to be quashed in the courts.
It was the latest twist in the ongoing controversy which erupted ahead of the film's launch at the end of the summer after racy marketing material provoked criticism.
Previously, a group of 34 Republican US House of Representative members petitioned for federal child pornography charges to be brought against the company, in a letter that challenged the film's protection under the First Amendment covering freedom of speech and expression in the US.
"I'm frankly surprised that there hasn't been more discussion about the First Amendment implications about this film," said Sarandos.
Asked whether the platform was considering making any cuts to the film or changes to who was able to access it, he replied, "No".
Sarandos's keynote is part of the MIPCOM Online+ conference programme which replaces its traditional physical edition in Cannes, which was cancelled due to the Covid-19 pandemic.
Talking about the impact of Covid-19 on Netflix, Sarandos said the company's global profile had enabled it to mitigate the challenges around production.
"One thing that really benefits from being an internet global company is that throughout the early stages of the Covid shutdown, in some places, they did not shut down, like in Iceland, and Sweden," he said.
"We were able to figure out safety protocols that have served us really well all over the world… We didn't really spend that much time thinking about what's this all going to cost. It really wasn't optional. We really built what I think is are state of the art safety protocols around our productions."
He suggested the "art" of the current situation was figuring out how to keep shooting while Covid-19 remained a reality in such a way that kept people "safe and working".
"That's what we've been really focused on. And the cost of it has not been the leading priority, of course, it's a factor. And what's really nice about it is, because of all the safety protocols, and people being very supportive of the safety protocols, that productions run much smoother. So you actually save some shooting days," he said.
He suggested that sets were being better run due to the protocols and fewer people being on set. "It's easier to keep the trains running on time," he said.