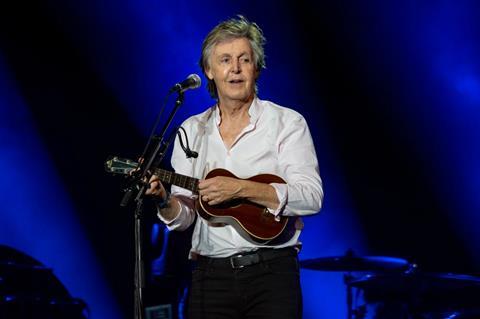 Netflix has boarded Gaumont's animated feature adaptation of Paul McCartney's children novel High In The Clouds revolving around the woodland adventures of a young squirrel.
McCartney co-wrote the 2005 adventure novel with Philip Ardagh and it was illustrated by Geoff Dunbar.
"I've always loved animated films and this is a hugely important passion project for me. I can't wait for the world to see it," said McCartney, who has created and produced all the original songs and music for the film.
Timothy Reckart, whose credits include the 2012 Oscar-nominated short film Head Over Heels and Christmas-themed animated comedy The Star, has signed to direct from a screenplay by Jon Croker (Paddington, Paddington 2 and Fantastic Beasts: The Crimes Of Grindelwald).
The storyline, according to the joint release, will revolve around an imaginative teenage squirrel who finds himself pulled into a ramshackle gang of teenage rebels who live high in the clouds after he accidentally antagonises Gretsch, a tyrannical owl and wonderful singer who steals the voice of anyone who upstages her.
Producers include Bob Shaye, the late Michael Lynne, McCartney and Sidonie Dumas, Christophe Riandee, Nicolas Atlan and Terry Kalagian at Gaumont.
The French film company, which also has offices in LA, Berlin and Buenos Aires, first optioned the project in 2017. Prior to that it had been in development with the Jordanian-owned production company RGH Entertainment.
"This has been an extremely collaborative creative process with the incomparable Paul McCartney and his team, including Lee Eastman who has offered invaluable guidance throughout the development stage," said Nicolas Atlan, president of Gaumont Animation and Family. "We at Gaumont are elated to be announcing this project and are excited to be working with Melissa Cobb, Gregg Taylor and the talented team at Netflix to be able to share this truly special musical animated feature film with audiences around the world."
Taylor, who is Netflix director of original animated films, said: "With Tim at the helm, this whimsical story celebrating individuality and the unifying power of music is in great hands."