Project marks fourth in Sandler's original deal with streaming giant.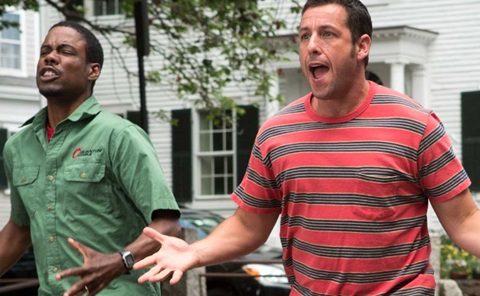 Netflix said on Tuesday Adam Sandler and Chris Rock will star in The Week Of, a Netflix Original set to begin production in Long Island, New York, this summer.
Rock and Sandler last starred together in the Grown Up films (pictured) and will play fathers in the run-up to their children's marriage.
Saturday Night Live writer-producer Robert Smigel will direct. Sandler and Smigel co-wrote the screenplay and Sandler and Allen Covert will produce through Happy Madison Productions. Barry Bernardi and Tim Herlihy will serve as executive producers.
The Week Of marks the fourth film in Happy Madison Productions' original deal with Netflix that was extended recently to include an additional four features.
Netflix claims Sandler's first three films in the deal – The Ridiculous 6, The Do-Over, and new release Sandy Wexler – are three of the biggest film releases ever to launch on the service, although the company does not disclose viewership numbers.
"Adam Sandler and Chris Rock are cornerstones of the Netflix comedy family and we are over the moon about these two legends reuniting to give our members worldwide a healthy dose of the hilarity that they have been creating together for years," Netflix chief content officer Ted Sarandos said.
"Similar in the romantic comedy tone of Sandler's most recent film Sandy Wexler, this film will be the perfect vehicle for Sandler and Rock and their millions of fans around the world."
Sandler will soon be seen in Noah Baumbach's upcoming comedy The Meyerowitz Stories (New and Selected) alongside Dustin Hoffman, Ben Stiller and Emma Thompson. The film will premiere in Cannes prior to a worldwide launch later this year through Netflix.
Rock is currently travelling the US on the first leg of his Total Blackout Tour 2017, his first in more than nine years.
Upcoming 2017 Netflix Original film releases include David Michôd's War Machine starring Brad Pitt; Bong Joon-Ho's Cannes competition selection Okja starring Tilda Swinton; and David Ayer's Bright starring Will Smith.