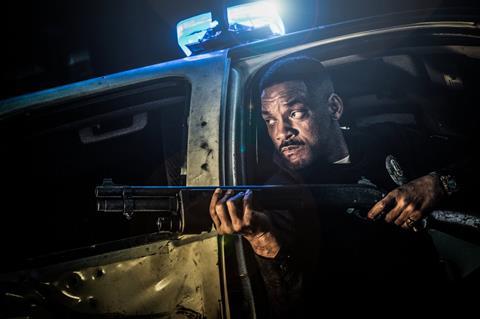 Netflix's largest single quarter subscriber increase to date propelled the number of worldwide subscribers to 117.58m in the fourth quarter of 2017.
The streaming platform reported on Monday (January 22) that 1.98m members joined from the US and 6.36m from the international market, resulting in a record total increase of 8.3m that easily beat the company's forecast of 6.3m.
For the whole of 2017, Netflix added 24m members, compared to 19m in 2016. The company attributed the surge to original content such as Stranger Things, big-budget action film Bright (pictured), and international originals including German series Dark.
Netflix said it plans to spend $7.5bn-$8bn on content in 2018 and will launch more than 30 international original series over the year in countries including France, Poland, India, South Korea and Japan. It also said it will increase its marketing spend from $1.3bn to $2bn.
In an online analyst interview about the results, Netflix chief content officer Ted Sarandos said Bright and the second season of Stranger Things "not only landed really well with viewers…but also were perfectly global, meaning that the watching was distributed almost exactly like our member base is. So a good story told well is a global product."
CEO Reed Hastings added: "We're learning better and better about how to be an effective global company, both for consumers, for governments and for content producers."
In its letter to investors, Netflix said it was "thrilled" with the performance of Bright (which was slammed by critics) and is "planning a sequel as well as an additional investment in original films."
With 54.75m members in the US and 62.83m internationally, Netlix's total streaming revenue for the fourth quarter was $3.18bn, up 35.3% year-on-year. Of that total, $1.63bn came from streaming in the US and $1.55bn from streaming in international markets.
In announcing its fourth quarter results, the company said streaming revenue for 2017 was up 36% to more than $11bn and said for the first time international operations made a positive contribution to full-year profit.
Netflix also revealed that Rodolphe Belmer, former CEO of Canal+ Group and currently CEO of Eutelsat, has joined its board of directors.