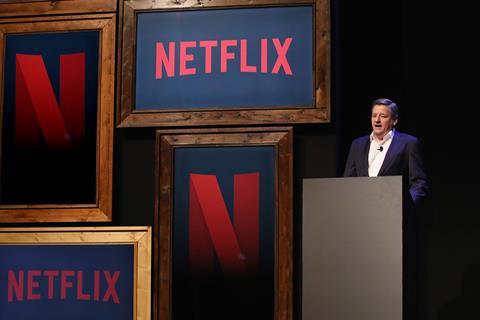 Netflix investors have withheld support for the compensatory packages of its leaders, days after the Writers Guild of America (WGA) sent a letter urging them not to back the compensation measures.
At the company's annual shareholders meeting yesterday (June 1), investors voted against the executive compensation structure for 2023 in a non-binding 'say on pay' vote. However, the Netflix board can disregard this vote and apply the packages to the company's senior leaders.
The package would see co-chief executives Ted Sarandos and Greg Peters receive a $3m base salary, with the former eligible for $20m in stock options and a $17m performance bonus. Peters - who was promoted to co-chief exec earlier this year when Netflix founder Reed Hastings became executive chairman - is line to receive $17.3m in shares and a $14.3m performance bonus. Hastings is expected to receive a $500,000 salary and $2.5m in stock.
In 2022 the payment to executives was approved by just 27% of shareholder votes cast, with Netflix subsequently stating that it made changes to the structure, including salary caps for its co-chief executives and performance-based bonus.
WGA West president Meredith Stiehm earlier this week wrote to shareholders calling on them to vote against the payment measures, which are "inappropriate" in light of the ongoing writers' strike.
She wrote: "While investors have long taken issue with Netflix's executive pay, the compensation structure is more egregious against the backdrop of the strike."
She also argued that if Netflix can pay $166m to its C-suite executives then it can afford to pay the $68m per year that the WGA is requesting in contract improvements which would put an end to the strike.
"Netflix's content pipeline has been blocked, with dozens of projects that were in development or ordered to series as of May 1st unable to move forward until WGA negotiations conclude," she stated.
"A delay in the writing, production, and release of new content may impact Netflix's ability to attract and retain subscribers and viewers just as the company asks customers to watch advertising and pay more for its content."
Stiehm wrote a similar letter to NBC owner Comcast which will hold its annual shareholder meeting next week.
Netflix's share price has risen 6.6% in the past 24 hours.
This story first appeared on Screen's sister site Broadcast