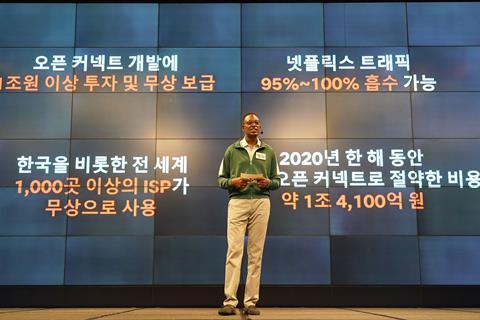 Netflix has hosted an "open talk" with the South Korea media today (November 4), to discuss topics including the lawsuit and countersuit on the issue of network usage fees to local internet service provider SK Broadband.
The platform also addressed questions about its compensation of creators, including of the global hit series Squid Game.
Dean Garfield, the streaming platform's Singapore-based vice president of public policy, stepped on stage in Seoul in a green-and-white Squid Game uniform top, accompanied by drumbeats from the Korean Netflix original series' soundtrack.
He reiterated the company's investment in local content with more than 80 Korean films and series on the service and about $700m spent on Korean content between 2015 to 2020. Garfield also underlined a previously announced pledge to invest around $500 million in 2021 alone.
"Korea is fast becoming one of the greatest and most influential entertainment and cultural centers in the world, not just K-drama, but also music, fashion, food, etc," he said. "The K-wave has infiltrated not just Asia, but every corner of the world. For example, Squid Game made it to number one on Netflix in 94 countries when it launched. We are so very excited to be a part of this journey with Korea."
Created by Hwang Dong-hyuk, Squid Game is a series in which desperate people compete with one another in a deadly match for a huge cash prize.
In mid-October, Bloomberg reported that it had seen internal Netflix metrics saying Squid Game would generate nearly $900 million in impact value for Netflix, while the entire series cost only $21.4 million to produce, approximately $2.4 million an episode. This is understood to be far less than other Netflix hit series such as The Crown, Bridgerton and Stranger Things.
Meanwhile, Hwang has been quoted in UK newspaper The Guardian that he has only been paid according to initial contract with no bonus despite the success of his show.
Asked to address the issue, Garfield pointed out the Squid Game creator had been working on the show "for nearly 10 years before any company was able, was willing to invest in it. We're very pleased and in fact humbled by the success of the show and know that we have a responsibility to ensure that success is shared with everyone who is a part of the show. We're actually planning to do exactly that."
He gave no further details as to how and to what extent this would happen.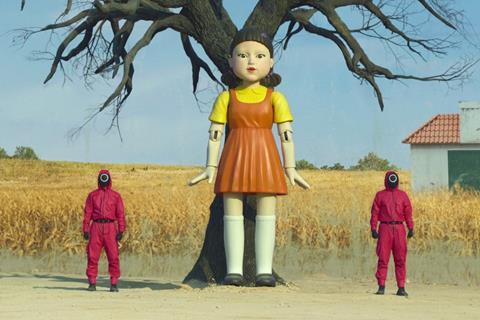 Garfield did respond to the issue of taxes in a country that has recently revised laws to make it necessary for companies such as Netflix to make profit and loss statements public.
"We are actually a company that is 100% committed to tax certainty," he said. "And committed to paying the taxes that we owe in the countries in which we operate. There are companies that, their primary focus on taxes is tax optimisation and that's not where we are as a company. We are focused on tax certainty because we run our business for the long term. That's true in Korea and that's true around the world."
Addressing infrastructure, Garfield provided details of Netflix's own content delivery network Open Connect, developed to store content closer to users.
"It has proven to help reduce network traffic by at least 95% and has helped ISPs globally save more than US$1.2 billion in 2020 alone," he said, adding the innovations included in Open Connect were ones "we hope to be able to share with our ISP partners to deal with any last mile [connection] issues that they may have.
"We're always working with our ISP partners to figure out how we can be part of the solution. I think in their terms of service, that last mile is what consumers are paying for. And so it's an open question and a point of conversation which is, if consumers are paying for it, what more do you expect?"
Following the success of Squid Game, Netflix has recently added three feature films directed by Hwang – hearing-impaired school drama Silenced (2011), which became such a social phenomenon in Korea that it resulted in legislation named after the film, dealing with sexual violence crimes against minors and people with disabilities; Miss Granny (2014), a local hit that CJ ENM deployed in its global initiative and successfully remade into multiple languages; and The Fortress (2017), an award-winning historical drama that stars Lee Byung-hun and Kim Yun-seok.