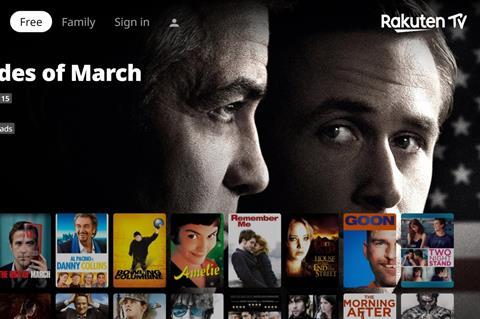 The world of streaming took centre stage at Mipcom (Oct 14-17) this year as content creators worldwide gear up for the launch of four major direct-to-consumer platforms over the coming six months: Apple+, Disney+, WarnerMedia's HBO Max and NBCUniversal's Peacock.
WarnerMedia Entertainment and direct-to-consumer chairman Robert Greenblatt hit the conference stage on Tuesday evening to tease details of HBO Max while existing streaming giant Amazon Studios was also in town talking up its international expansion plans.
Much of the focus, however, was not on these deep-pocketed, content rich players but rather the rise of the AVoD (ad-based video-on-demand) platforms, offering consumers "free" content in turn for accepting advertising breaks.
Long regarded as the poor relations of the streaming scene these ad-based platforms are now on the ascendency too.
"At the beginning, AVoD was associated with low quality content in a way but it's changed massively," Olivier Jollet, the Berlin-based managing director Europe for Pluto TV, told a panel on the rise of AVoD.
Jollet recounted how the company had met with derision when it launched in 2014 with TV experts predicting that audiences would not tolerate advertising in an age of ad-free subscription services.
"Fast forward five years and we're the largest free-streaming service in the US and have since opened up operations in the UK, Germany, Switzerland and Austria. We're achieving 18 million users per month," said Jollet.
Its offering comprises more than 200 live and original channels dedicated to hot TV properties such Gordon Ramsay's Hell's Kitchen, Dora The Explorer, Teenage Mutant Ninja Turtles and James Bond as well as areas of interest such as football, crime series and stand-up comedy.
Jollet also noted that the biggest achievement of 2019 had been the company's acquisition by Viacom for a reported $340m in March, which will enable it to further expand the quality and quantity of its programming going forward.
On the same panel, Jacinto Roca of Barcelona-based streaming platform Rakuten TV announced it too was pushing into the AVoD space with a new pan-European ad-based service.
It launches with a slew of original content including Matchday – Inside FC Barcelona, a high-end documentary on the Spanish soccer club narrated by John Malkovich.
Roca said that AVoD platforms were complementary to SVoD platforms, offering distribution to the wealth of content not destined for subscription-based streamers..
"Consumers will not subscribe more than two or three subscription services but there is a bunch of very good content out there. AVoD is the way to bring this great content to users without them having to make a commitment or have a subscription," he said.
"We're going to launch our own exclusive content on AVoD. It will be high quality content but for free. Consumers don't need to choose between Netflix and us - they can complement Netflix with us," he added.
Improving the "ad experience"
Another panellist, Jennifer Vaux, director of programming acquisition at US ad-backed The Roku Channel, which launched in 2017, revealed the platform had streamed 9.4 billion hours of content in the second quarter of 2019.
She suggested another factor behind the growing popularity of the AVoDs was better management of how the advertising is delivered.
"The ad experience has improved tremendously in the last year. We've worked hard to reduce the friction. When consumers see an ad it's in a natural ad break, it's not chuggy," said Vaux.
Pluto TV's Jollet said that when the platform had launched in Europe getting the ad strategy right had been more of a challenge than figuring out the content.
"The challenge was not to localise the content but rather the ad logic," he explained. "In the US, you have an ad break every 10 minutes. In Europe, viewers are more accustomed to longer ad breaks but being left alone to watch content for more than 20 minutes without a break."
The talk of Mipcom
AVoD's were also out in force in other parts of the Mipcom programme.
In a keynote presentation, Max Conze, CEO of Munich-based media and entertainment company ProSiebenSat.1 talked about its ad-supported streaming service Joyn.
A joint venture with Discovery, it offers content from 55 public and commercial free-to-air channels as well as originals.
Currently focused on Germany, it garnered some 3.5m users since it was launched in 2019. Conze said the long-term aim was for it expand beyond Germany.
Farhad Massoudi, the founding CEO of San Francisco-based, Lionsgate-backed ad-backed streamer Tubi, also gave a keynote.
The platform, which currently has some 20m users a month in the US, is particularly Hollywood-focused, offering 12,000 movies and TV shows from studios such as Paramount Pictures, MGM, Lionsgate, Warner Bros and Universal Pictures.
Massoudi described Tubi as a technology-first company which could complement the offerings of existing subscription-based streamers like Netflix.
Its unique selling-point, he emphasised, was the sites sophisticated algorithm technology aimed at matchmaking viewers with its vast catalogue of programmes.
"Going on a bad date is just like being forced to watch a bad movie. You just don't want to sit there," he said.
Massoudi concluded his keynote with the announcement that Tubi would be launching in the UK in early 2020, where it is expected to go head-to-head with Pluto TV.
The AVoD sector looks set to heat up further in the coming 12 months.