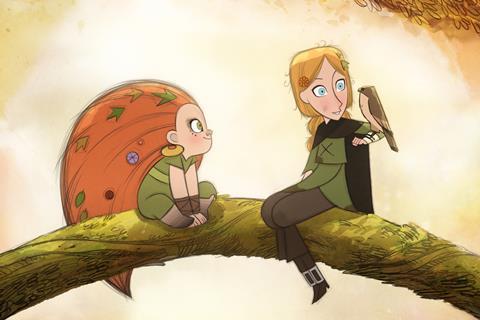 All of Ireland's cinemas have closed for at least three weeks as new government Covid-19 regulations came into force today (October 7).
The country moved into phase three of its five-phase Living With Covid-19 plan at midnight. This remains in place for the next three weeks and means no organised indoor events are permitted to take place, while museums, galleries and other cultural attractions must close.
Dublin and the northern county of Donegal have already been subject to local phase three restrictions for the past fortnight.
Cinemas in Northern Ireland, which operate under UK guidelines, remain open.
The restrictions come at a deeply unfortunate time for cinema owners and distributors, with several high-profile Irish films due for release in the coming weeks.
They include Herself, co-written by and starring Claire Dunne as a woman who sets out to build her own home, partly to escape a violent partner. Directed by Phyllida Lloyd, it was set to be released in the UK and Ireland on October 16, but is now delayed until further notice.
Element Pictures co-founder Andrew Lowe, who co-produced and are distributing the film (alongside Picturehouse Entertainment), and also operates The Lighthouse and Palás cinemas in Ireland, called for support similar to the UK's Culture Recovery Fund for Independent Cinemas.
"It's a meaningful contribution towards keeping a loss-making business going," he said. "Unfortunately there's nothing like that here. Cinemas are really exposed. It's a really precarious position we're in.
On Herself, Lowe added: "The London Film Festival screening is still going ahead and we're confident we will be able to get it out there again."
Other Irish releases impacted by the restrictions include Eclipse Pictures' Henry Glassie: Field Work, from award-winning filmmaker Pat Collins, with this week's release deferred. Paramount Pictures-backed Pixie, filmed in Ireland and starring Olivia Cooke, was due for release on October 23 but has also been delayed.
One of the most anticipated Irish films of the year, Emer Reynolds' documentary Phil Lynott: Songs For While I'm Away, has been delayed from a planned October 23 release. Distributors Break Out Pictures had also released Peter Mackie Burns' Rialto into cinemas just days ago.
"This is a hammer blow for the filmmakers behind Rialtowhich was just five days into release and yet to open in Dublin, a key city for its release," said co-founder of Break Out Pictures, Robert Finn. "The theatrical experience is simply irreplaceable and we are working closely with Irish exhibitors to continue to release films in cinemas in 2020, including Phil Lynott: Songs for While I'm Away, which we will release when cinemas reopen their doors."
Wildcard Distribution is due to release Tomm Moore and Ross Stewart's animation Wolfwalkers days after current restrictions end. Wildcard founder Patrick O'Neill bemoaned the uncertainty. "[We] are on the eve of launching our biggest film of the year, and the current situation makes planning incredibly difficult," he said.